January 14, 2017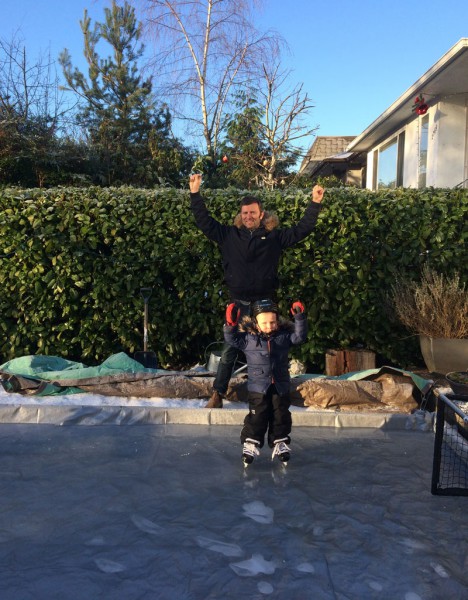 IT'S BEEN MEMORY-BUSTIN' REALLY COLD IN VANCOUVER THIS WINTER!
Sure, there have been some big snow dumps followed by cold, sunny weather, but rarely do they last more than a week in this town. I had to claw through my memory, back to the 1970s, to remember something similar – when it got cold enough, long enough, that they opened up Lost Lagoon for public skating. My entire family took advantage of that snap, skating time and again on the downtown lake, when I was just a kid.
Jump ahead 40 years (40 years!) and now I'm the dad with a three-year-old who's obsessed with skating and hockey. He repeatedly asks me to build him a "backyard rink," and I explain to him that Vancouver is just too warm.
Then, about a month ago, when that first cold snap struck, I thought, "Well… maybe, just maybe, I could pull it off for the kid." I am not handy, so I went online and watched a few rink-making videos from the east. The easiest method I found is to buy some long two-by-six planks and the biggest tarp you can find. Thanks to several tips culled from Instagram, where I was posting my progress, I screwed the planks together into a frame and laid the tarp over top (a mistake; in retrospect, I should have put the tarp down first, then the frame, so the water could freeze at a right angle against the boards). I filled it with an inch of water from the hose. Within an hour, it was already frozen. Huh!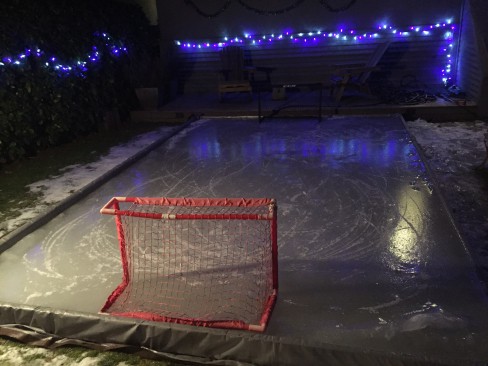 I should mention there were as many detractors on social media as there were helpers. Many told me an outdoor rink in Vancouver could never be done. Undaunted, I added an inch of water a day (which, itself, was a hassle, since I had to bring the hose inside to thaw it out between floodings). By day three, my son Josh's dream had come true: He was skating on his very own backyard rink.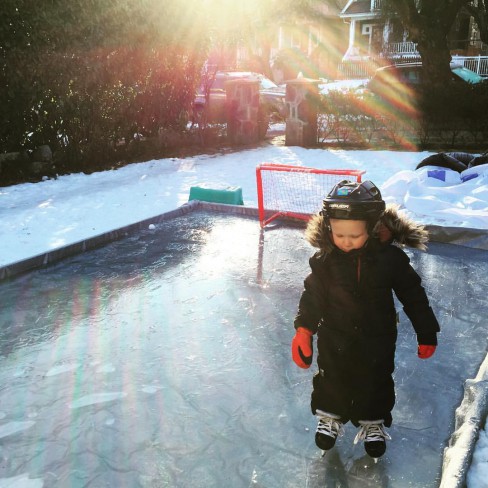 It worked! And it sure attracted a lot of attention. On day four, Bob Kronbauer from VancouverIsAwesome.com, did a story about the rink and posted a video of Josh skating. By day five, other kids were trying it out, and we borrowed the neighbour's outdoor fireplace for après-skating rink-side s'mores. By day six, the rink was on page three of the daily paper as well as the nightly news. Needless to say, my family was taken aback by all the attention. "If you build it, they will come." Too right.
We enjoyed about a week of action on the rink before it started to thaw, but by Christmas Eve it was frozen again and we enjoyed a Christmas Day skate in the bright sunshine. The snow and ice on New Year's Eve thickened it even further, allowing for even more skating fun, which was so much more than we ever would have imagined. At last count, the VancouverIsAwesome video of Josh had over 100,000 views. To put that in perspective, my band's videos have about 60,000 views.
Sure, it sucked that the sidewalks were slick and the roads were dicey and the city was slow to respond, and it was very challenging for seniors and the disabled. But if this kind of winter only happens once every 40 years, I hope you enjoyed it while you could. My son sure has. Drop the puck!