December 20, 2016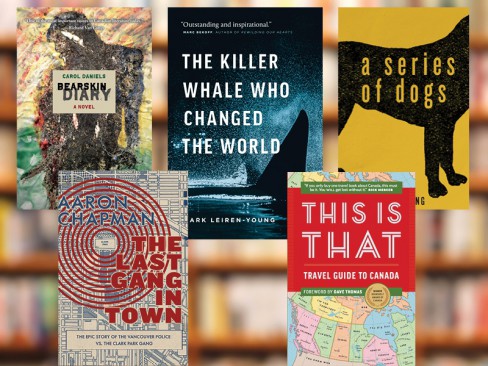 Here's my roundup of the top-five best books released by BC publishers this year, just in time for your last-minute literary gift shopping. Let us rejoice in the glory of our written word!
By Mark Leiren-Young (Greystone)
Leiren-Young expertly tells the heartbreaking story of Moby Doll (a young, doomed orca captured in 1964) as a means to illustrate our transition from referring to the world's apex predator not as a "killer whale" but as an orca. This timely, riveting book is a must-read for anyone who cares about these highly intelligent social beings living just below the surface, right out there. What you'll learn is guaranteed to fill you with a new level of respect for the endangered orca.
By Chris Kelly, Pat Kelly, Peter Oldring and Dave Shumka (Tite Publishing)
From the very funny fellows who brought you CBC Radio's satirical current-affairs show This is That comes an equally hilarious first book. This fake guide was co-written by show producer Chris Kelly, and hosts Pat Kelly and Peter Oldring, along with Stop Podcasting Yourself co-star Dave "Shummy" Shumka. It includes everything from detailed descriptions of the best strip-malls of the Maritimes ("the epicentre of every community"), to the Top Five Walks in Canada (including the Walk of Shame: "walking home in the morning after a romantic tryst in the clothes you wore out the night before"), to the "maximum legally allowed number of Australians" in a Canadian youth hostel. The perfect stocking-stuffer for the CBC fan in your family.
By John Armstrong (New Star Books)
One of the injustices of human life is that a dog's lifespan is so short compared to ours. If you've ever owned a dog and gone through the love and heartbreak of its life cycle, you'll know what I mean. Author/musician John Armstrong (AKA Buck Cherry of legendary Vancouver band the Modernettes) seems to know exactly what I mean. This is a funny, very relatable, well-written memoir that tells the touching stories of the many dogs John has had, backdropped by his rough-and tumble-life in and around Vancouver. Essential reading for dog lovers!
By Carol Daniels (Nightwood Editions)
The best novel I read this year was the fictional portrayal of Sandy, a First Nations woman victimized by "the Sixties Scoop." There's nothing fictional about the Scoop, however: Between the 1960s and '80s, over 20,000 Aboriginal Canadian babies were "scooped" at birth from their mothers and placed in foster care by order of the provincial governments of the day. Out of this shocking chapter of Canadian history comes this very important and gripping book, partially based on author/former journalist Daniels's life experiences.
By Aaron Chapman (Arsenal Pulp)
Vancouver "after dark" author Aaron Chapman (Liquor, Lust, and the Law; Live at the Commodore)has done it again with his third book, which chronicles a bloody era of Vancouver that had previously been cloaked in a Mac jacket of mythology. Chapman does fine journalistic work here: the research is top-shelf, and he manages to never reveal bias to either the police or the gang, even though you sometimes wish he would.
• Grant Lawrence is the author of two books: Adventures in Solitude (2010) and The Lonely End of the Rink (2013). His rock 'n' roll memoir, Dirty Windshields, is slated for spring of 2017.