June 25, 2016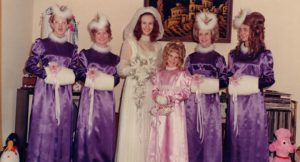 Everybody knows there's two seasons in Vancouver: the rainy season and the wedding season. Between mid-May and mid-September, hundreds of hopeful couples will legally tie the knot, everywhere from Prospect Point to Wreck Beach. Rejoice! I'm here to help you get your big day right.
Plan B
The last Saturday in May is typically the beginning of marriage season. This year it happened to rain all day long on Saturday, May 28. I know of at least two weddings that were washed out in Stanley Park, one of them not having an indoor Plan B! Heels and mud don't mix. We still live in a rainforest! Plan for an indoor alternative no matter what your wedding date.
Mind the gap
Take all of your lame wedding photos before your guests arrive to avoid the ridiculous "wedding gap" that often occurs between the ceremony and the reception. Where are 150 people dressed in their Sunday best supposed to go on Bowen Island for three hours while you awkwardly pose in your gown and tux down on the beach?
Fuel for the masses
Unless your entire wedding is going to be under an hour, you must must must feed your guests an entire sit down meal, along with plenty of snack options before and after. With the cost of weddings in 2016 cresting an average of $35,000, many couples cheap out on food, thinking cheese and crackers at standing bar tables will suffice. They won't. If you don't provide a meal, your guests will quickly get drunk, hangry, and indignant. They will be ordering pizza to the parking lot during the speeches. And the only potluck at a wedding should be the medicinal marijuana in your midnight brownies.
Speakers Corner
Don't skip the speeches! The speeches are my sentimental wife's favourite part of any wedding. Why? Because there's something about a wedding that brings out a raw and honest love that is so rarely spoken in every day life, from speakers who aren't usually behind a microphone. And if there's a drunken mother-in-law-trainwreck-speech, all the better, really. Just avoid the open mic.
Beer me beloved
There's nothing worse than a wedding in full swing suddenly running out of booze. My only mathematical gift is to be able to eyeball exactly the correct amount of alcohol needed for a large number of people. I have literally saved wedding days by making emergency booze runs before the party has even started, just by looking at their stack of beer behind the bar. Always budget for more booze than you think they'll ever drink. And buy local.
Let's Dance
Couples trying to save costs by creating an iTunes playlist instead of hiring a DJ or a live band usually have great intentions but ultimately fail. Here's the secret to a packed wedding dance floor from start to finish: most of us dance to what we recognize. At your wedding, you must respect the multi-generations in attendance. Therefore, plan your playlist chronologically through the ages and don't let anyone mess with it. Start with hit tunes from the 1950s and '60s for the old-timers, then slowly progress into the 1970s, '80s, '90s, and 2000s. Schedule one slow dance number for every four upbeat songs. By the time you get to the Black Keys and Robin Thicke 'round midnight, the grandparents have gone to bed and you can really blur the lines between your bridesmaids.
IndieNoNo
Most crowd sourcing is obnoxious to begin with, so don't you dare even think about Kickstarting your wedding or honeymoon. Instead, drop a private line to maybe your best man or maid of honour to organize a larger wedding gift from a group of friends. We once surprised my best friend and his wife on their wedding night with a honeymoon to Hawaii that 20 of us all chipped in on. Much more memorable than a collapsible salad bowl from Canadian Tire.
Follow these simple planning vows, invite me to your wedding, and congratulations in advance on a perfect day! Did I miss anything?