March 8, 2016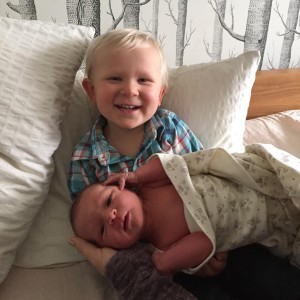 I hope you have successfully navigated another winter season like the hero of The Revenant, as we push forward into the glorious spring of 2016 (speaking of The Revenant… the movie was pretty good, but have you read the book?! It's incredible!)
Our family started the year with my wife successfully pushing forward our new little hero: on January 1, 2016, our daughter Grace Heather Lawrence came into the world in a planned home birth at our house in Vancouver. Grace is doing very well, and is now giving big smiles to her loving big brother Joshua.
With two kids under three at home, I'm in the midst of taking my longest break of my career from the CBC: an entire year of paternity leave! And while I temporarily miss the day-to-day honour and hustle of working at the Canadian Broadcasting Corporation, I'm treasuring the time I'm spending with the kids and Jill. Just not right now while writing this.
Besides trying to learn how to be a better parent (don't bring peanut butter snacks to the family drop in at the Community Centre!), I'm also ever-plugging away at my third book: the trials, travails, and treachery of 17 years in a touring rock 'n' roll band. I think I'm on my… sixth or seventh re-write?
Just like the tours, the book has been a slog, but it's also been amazing to re-connect with all the musicians and mentors the Smugglers crossed paths with 20 years ago or more on the touring trail, while I try to piece together the stories like the time the Hoboken club caught fire (while we were in it), the time the Cleveland club flooded (while we were in it) and the time the Denver club erupted into a riot (while we were in it).
Since I'm still writing, the publishing date of the next book is moving target… will it be fall of 2016 or spring of 2017? I'll let you know as soon as I know.
In the meantime, I continue to plunk out the Vancouver Shakedown, my weekly column for the Westender, Vancouver's longest-running entertainment weekly. On any given week, the column tends to either delight or enrage.
And just because Jill gave birth to our second child doesn't mean my ever-prolific wife is slowing down. On April 1, Jill Barber and her brother Matthew Barber release The Family Album, their first record together, a radiant mix of covers and originals, performed as beautiful folk duets.
Both Jill and I will be on the road this spring and summer… hope to see you around and thanks as always for your support!
Grant Lawrence Spring 2016 tour dates
Fri – Sat, Mar 11 – 12, Words on the Water Literary Festival, Campbell River BC
Fri – Sun, Apr 8 – 10, Okanagan Writers Festival, Penticton BC
Fri Apr 15, North Shore Writers Festival, North Vancouver BC
Sat Apr 30, Authors for Indies, 32 Books, North Vancouver BC (afternoon event)
Sat May 7, A Whisky Library, Lynn Valley Library, North Vancouver BC
Sat May 14, LitFest, New Westminster BC (afternoon event)
Mon Jun 13, Canadian Independent Music Association Awards Gala (CIMA), Berkeley Church, Toronto ON
Fri – Sat July 8 – 10, Elephant Mountain Literary Festival, Nelson BC
Fri – Sun July 15 – 17, Vancouver Folk Music Festival, Vancouver BC
Jill Barber Spring 2016 tour dates (all dates w/ Matthew Barber for the Family Album Tour)
Fri Apr 15, Arden Theatre, St. Albert AB
Sat Apr 16, Arden Theatre, St. Albert AB
Sun Apr 17, Eric Harvie Theatre, Banff AB
Thu Apr 21, Casino Regina, Regina SK
Fri Apr 22, West End Cultural Centre, Winnipeg MB
Sat May 28, the Great Hall, Toronto ON
(more dates to be announced soon across Canada and North Eastern USA)