February 15, 2016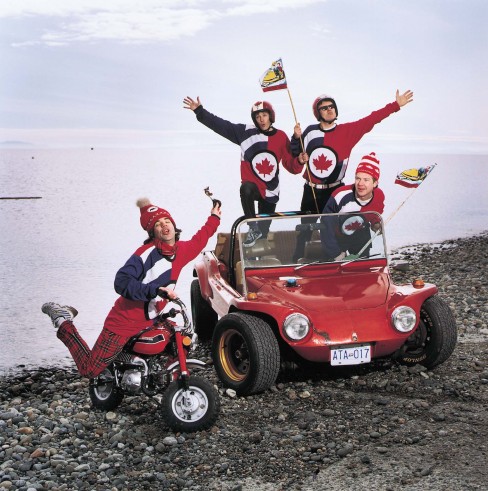 When it comes to listing off renowned Vancouver bands through the decades, groups like Trooper, Skinny Puppy, the New Pornographers, Be Good Tanyas, or D.O.A. might spring to mind. The band that might not is the Evaporators. That's a shame, because the Evaporators will always be on my list as one of the greatest groups to ever hail from our Terminal City. What might be more immediately recognizable to you is the name of the Evaporators' lead singer: Nardwuar the Human Serviette.
Over the past several decades, Nardwuar has not only become one of Vancouver's most unique citizens, but truly a Canadian treasure, mostly because of his incredible stockpile of highly researched and wildly entertaining video interviews with everyone from Snoop Dogg to Mikhail Gorbachev. On a Canadian level, his (mostly successful) attempts to get Canadian political leaders to play a ridiculous '60s party game called the "Hip Flip" is always amazing, and surprisingly humanizing.
But back to the Evaporators: Saturday, Feb. 20, 2016, marks the band's 30th anniversary. It was on that night, three decades ago in the dusty gymnasium of Hillside Secondary School in West Vancouver, that Nardwuar and his band mates took to the stage for the first time, at Variety Night (a yearly talent revue hosted by our English teacher). The Evaporators performed three cover songs: "Shot Down" by the Sonics, as well as "Goo Goo Muck" and "Human Fly" by the Cramps.
I remember the night well, because I was in the audience. The Evaporators blew my nerdy teenage mind, and were the primary reason why I formed my own band a year later. To me, the Evaporators were the coolest of the cool, mixing '60s garage rock with '80s surf-punk to maximum effect. Nardwuar was the manic frontman. Back in '86 he rocked a brush cut, looking nothing like his signature tam o' shanter-atop-the-Prince Valiant-haircut he's famous for now.
For years, the Evaporators were essentially the underappreciated house band at all of Nardwuar's legendary all-ages shows all over Vancouver. In 1992, they finally released a record: a punk-fuelled seven-inch EP entitled Welcome To My Castle. Their first full-length album wouldn't arrive until their tenth anniversary in 1996: United Empire Loyalists, a vinyl LP that highlights Nardwuar's obsessive love of Canadian history, coming complete with a massive foldout sleeve. They really started rolling after that, releasing I Gotta Rash in 1998 (a split LP with Nardwuar's other bizarre band Thee Goblins), Ripple Rock in 2004, and Gassy Jack and Other Tales in 2007 (arguably their best, a salute to Gastown founder Gassy Jack Deighton). The songs on many of the records reveal a glance into the mind of Nardwuar: "Addicted To Cheese", "I Feel Like A Fat Frustrated Fuck", and "I Say That On Purpose To Bug You", etc. The backing instrumentation by veterans of bands like the New Pornographers, Slow, and Destroyer is wicked.
Over their three intense decades, Nardwuar and the Evaporators have steadily evolved into absolute masters of live entertainment as well, often featuring in-set cameos by everyone from heavy metal legend Thor, to Scottish hit makers Franz Ferdinand, to New York party rocker Andrew WK. If you've ever seen an Evaporators show, say for instance in recent years at the Khatsahlano Festival, it probably took you hours to wipe the smile from your face.
Unfortunately, there won't be a big celebration for the Evaporators' 30th anniversary this month. Nardwuar is busy concentrating on something much more serious: recovering from a stroke he suffered in December, along with reparative heart surgery last month. The good news is he's doing well, and promises new music from the Evaporators later in 2016. Long live Nardwuar, long live the Evaporators, and happy 30th anniversary, from a life-long fan. The Evaporators will always be on my list of Vancouver's best-ever-bands.