November 24, 2015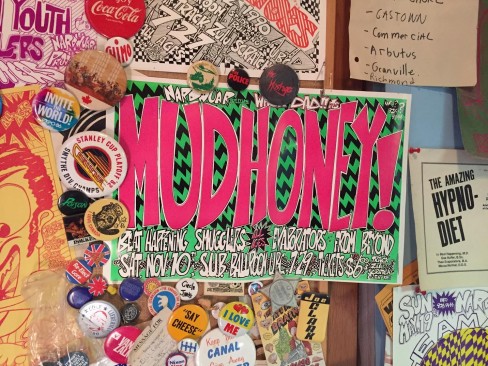 Where were you 25 years ago? Thanks to consistent reminders from my longtime pal, interviewer extraordinaire, and media impresario Nardwuar the Human Serviette, I happen to know exactly where I was in November 1990. My ramshackle garage band, the Smugglers, had landed the gig of our young lives, at an all-ages concert at UBC's Student Union Ballroom. It was called "Whoa Dad!" and starred none other than Mudhoney, Seattle's undisputed kings of grunge. Also on the bill was Nardwuar's band, the Evaporators (who are still rocking, celebrating their 30th anniversary in 2016), and legendary Olympia indie band Beat Happening. It certainly helped our cause that Nardwuar was both our friend and the promoter of the concert.
Nardwuar had already organized several other smaller all-ages concerts around town, but he really hit the needle in the groove for "Whoa Dad!" Mudhoney was arguably at the apex of their career in November 1990, months after their hallmark debut self-titled album, and less than a year before the music world would be changed forever by fellow Emerald City rockers Nirvana.
All 1,000 $6-tickets sold out in advance, with heavy demand for more, so Nardwuar organized a security force of geek-rock volunteers from UBC's CiTR Radio, who in retrospect could have passed for the cast of Ghost World. When the frothing hordes of first generation flannel-and-combat boots-clad grunge rockers arrived by city busload after busload, they easily shoved the twee security aside, over-stuffing the SUB Ballroom with raging teenage testosterone.
The Smugglers played first, taking to the stage in our matching outfits of dark navy pea jackets and rubber boots, with as much false confidence as we could muster, playing as loudly and as quickly as we could, with as much airborne energy we could possibly manage. From the very first note the crowd was miraculously with us, exploding into a frothing pit of bodies like an ocean riptide. When we gathered backstage after the set in sweat soaked puddles, we felt like rock stars.
Caroline Longford, the reviewer from Discorder magazine assigned to cover the gig, didn't agree, not even bothering to mention our performance in her print review: "of the three acts worthy of mention, the talented Evaporators were, as usual, the most amusing. Beat Happening, contrary to what the names suggests, definitely wasn't… [and] last but not least, Mudhoney. They were good." Not even worthy of mention? Ouch.
What sadly is worthy of mention is my most haunting memory of "Whoa Dad!": the moment immediately before Mudhoney took to the stage. Acting as MC, Nardwuar was attempting to introduce the band in a trivia-laced, lengthy and earnest intro, but was being drowned out by the booing crowd. Finally realizing the battle between audience and MC was lost, Nardwuar pulled a double reverse, shouting four words into the mic that I'll never forget: "SPIT ON ME NOW!"
The surly audience didn't hesitate. A sickening hailstorm of spit and phlegm rained down on our dear friend and promoter, who stood at the lip of the stage in a crucifix pose, his head craned back, his eyes shut tight and mouth agape. The stage lights grossly illuminated the bodily fluids arcing from the sinus cavities of the thousand-plus angry punks to Nardwuar. I was used to Nardwuar's sudden bursts of reverse psychology, but had never seen it backfire to this disgusting magnitude.
When the gobs finally subsided, a seemingly nonplussed and thoroughly soggy Nardwuar lifted the mic to his mouth and shrieked "ladies and gentlemen, please welcome… from Seattle, Washington, USA… MUDHONEY!"
Mudhoney fittingly launched into "Here Comes Sickness", and the SUB Ballroom detonated into pure grunge rock mayhem. So… where were you 25 years ago?