September 15, 2015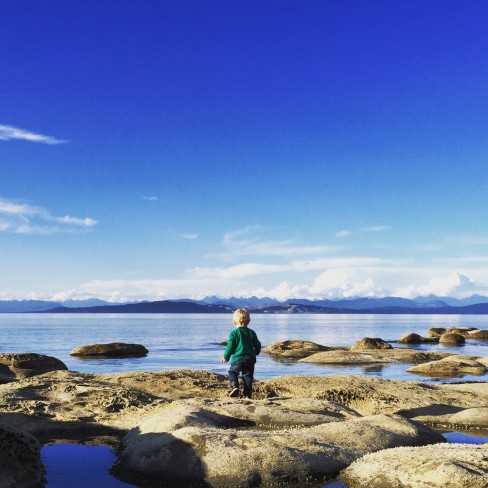 I hope this finds you happy and healthy for this upcoming fall season of 2015. I also hope you had a blast this summer!
After working a fun CBC event on Canada Day in Edmonton, and then hosting at the Vancouver Folk Music Festival on Jericho Beach, I was able to get away with my family for a fantastic road trip on the great "Circle Route": around the Strait of Georgia, also known as our spectacular Salish Sea, right here on the south coast of BC.
We first took our very familiar route up the gut-churning Sunshine Coast highway, to our cabin in Desolation Sound. There, we celebrated with a summer deck party for friends and neighbours with a special acoustic performance by my wife Jill Barber and her brother Matthew (expect a new duets album from Jill and Matt in the new year, their first album together).
After ten hot, sunny, glorious swimming days in Desolation Sound, we crossed the Strait from nearby Powell River to Comox on Vancouver Island, where Jill and Matt also performed, and our son Joshua celebrated his 2nd birthday. Then we took a few more wee ferries to the always astounding Hornby Island, where I was able to make a few childhood nostalgic dreams come true by interviewing Casey and Finnegan creator and puppeteer Judith Lawrence (no relation) from Mr. Dressup for CBC Radio. (If this feels like deja vu, we met Judith last summer on Josh's 1st birthday).
Next, we rolled down the eastern side of Vancouver Island (the coastal beach route) for our first-ever visit to the expansive Butchart Gardens, just outside of Victoria, where Jill and Matthew played one more show. Finally, we ferried home through the Gulf Islands to Vancouver. If you haven't taken the Circle Route, I highly recommend it, especially in the summer… it's non-stop beaches, views, fresh fruit stands, and oceanic wildlife, in our very own Mediterranean Sea.
And… I was able to broadcast (and podcast) that conversation with Judith Lawrence, along with a host of other interviews I collected over the summer, when I had the honour of guest hosting North By Northwest on CBC Radio One here in BC. I'm happy to report that I'll be once again guest host the show in October (dates and times below).
I also inch (centimetre?) ever closer to completing my new book. I work on it every day, I swear! It's a thoroughly soiled rock 'n' roll memoir of my touring days in the Smugglers. Expect a 2016 release for sure. We're just hammering out whether it will be a spring or fall launch. That's if my former bandmates will approve of ANY of it. *Gulp*
Besides a third book from me and a new album from Jill, the most exciting release we have planned is… a new baby on the way! Our second child is due right around the Christmas holiday. We're very excited, and our son Josh points towards his Mama's ever-growing tummy and says "big baby!"
Before that happens, both Jill and I will be cramming in plenty of events near and far. I'm totally thrilled to be making my first-ever trip to Nunavut, while Jill will tour both Europe and Quebec. All dates are below.
Thanks for the support and kindness, hope to see you somewhere down the road this fall or winter! Let's have a beer or nine. I'm going to need 'em.
– GL
Grant Lawrence Fall 2015 Events Schedule:
Sun Sep 20, Western Canadian Music Awards, McPherson Theatre, Victoria BC. My sixth straight year proudly hosting this show.
Fri Sep 25, Historic Joy Kogawa House, 1450 W. 64th Street, Vancouver BC. Adventures in Song and Story with Grant Lawrence: an intimate and interactive presentation on storytelling. Grant will share his own journey from his early days as a songwriter in a rock band in the 1990's, transitioning to an oral storyteller on CBC Radio, to his current status as an award-winning author of creative non-fiction. Grant will detail some of the adventures along the way that lead him to where he is now, his favourite storytelling exercises and tips, and how to best tell your own story or narrative. 7:30pm, admission is free, seating is very limited. Part of Word Vancouver.
Fri – Sun Oct 2 – 4, Alianait Arts Festival, Iqaluit, Nunavut (w/ Joel Plaskett).
Sat – Sun Oct 10 – 11, guest hosting North By Northwest, CBC Radio One (6am – 9am live radio in BC, streaming around the world).
Fri – Sun Oct 16 – 18, Whistler Writers Festival, Whistler BC.
Mon Oct 26, North Vancouver City Library, 7pm, reading and memoir writing workshop (free).
Sat Nov 14, West Vancouver Memorial Library, interview with Giller Prize-nominated author Michael Christie (If I Fall, I Die).
Jill Barber Fall 2015 Events Schedule:
Europe:
Tue Sep 29, Gerb de Nobel, Leiden, Netherlands
Wed Sep 30, Horns Erben, Leipzig, Germany
Fri Oct 2, Case o' Crocs, Neuchatel, Switzerland
Sat Oct 3, Queen Kong Club, Neuchatel, Switzerland
Sun Oct 4, Brotfabrik, Frankfurt, Germany
Mon Oct 5, Privat Club, Berlin, Germany (open to the public, not a private show)
Tue Oct 6, Stage Club, Hamburg, Germany
Thu Oct 8, Troubadour, London, UK
Fri Oct 9, Stables, Milton Keynes, UK
Sat Oct 10, Sugar Factory, Amsterdam, Netherlands
Sun Oct 11, Roepaen Podium, Ottersum, Netherlands
Quebec:
Tue Oct 20, Cafe Theatre Les Beaux Instants, Sorel
Wed Oct 21, Granada, Sherbrooke
Thu Oct 22, Maison des Arts, Laval
Sat Oct 24, Les Arts de la Scène, Montmagny
Wed Oct 28, Maison de la Culture, Trois Rivieres
Thu Oct 29, Salle Alphonse-Desjardins, Rivieres-du-Loup
Fri Oct 30, Salle Pauline-Julien, Ste. Genevieve
For tickets and more information: www.jillbarber.com
—
Any questions? Please ask. Have a great fall!
– Grant