August 11, 2015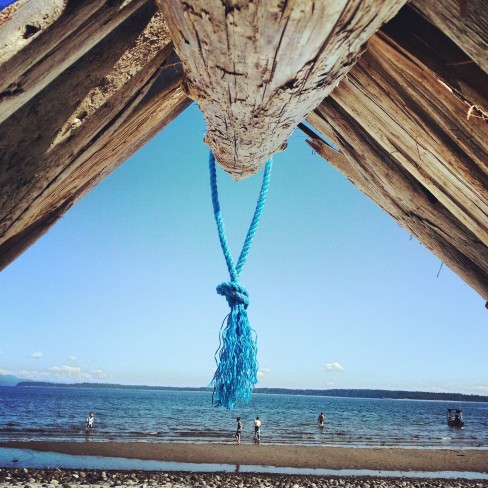 Last week, I had the utmost pleasure of visiting the sandy shores of Hornby Island. Hornby is considered part of the northern Gulf Islands, located about a half hour south of Comox, just off the coast of Vancouver Island in the Strait of Georgia (or what is becoming commonly known as the Salish Sea). To get to Hornby from Vancouver, it's a three-ferry, seven-hour adventure, from Horseshoe Bay to Nanaimo, then up island for a couple of quick rides on smaller ferries, first onto Denman Island, then finally to Hornby.
The amazing race is worth it. Hornby is truly a rare gem, one of those places where you can just feel your shoulders relaxing as soon as your car finally rolls off the tiny ferry onto the island's gently curving, two lane roads with nothing but a solid yellow line to lead you to wherever you're lucky enough to be staying.
You may have heard the hyperbole: Hornby is "the Hawaii of Canada". After experiencing the island's spectacular beaches first hand, I can personally vouch that the so-called hyperbole is pretty darn close to reality, at least in the summer months. Hornby's main beaches are broad and beautifully sandy, accented by sun-bleached driftwood logs that look like a giant art installation placed just above the high tide line. If the tide is out, like it was when I was there, the hard packed sand flats create football field-sized playing areas for people of all ages. And the water is really warm.
But therein lies the rub: Hornby is also no secret, which means there are a lot of people stuffed onto that little island in the summer. Arriving directly onto Hornby from my usual haunt in Desolation Sound was a jarring culture shock. By mid-afternoon, the island's famed Tribune Bay beach was completely packed. I'm talking hundreds, if not possibly thousands, of bronzed beauties of all shapes and sizes, shoulder to bare shoulder, stretching out onto every inch of the white sand like lizards in board shorts and bikinis.
Posted signs say "no alcohol", but there doesn't seem to be any sort of police presence on Hornby. Everyone was tipping back while in states of half or total nudity, to the point where I thought the island would probably do well to drop the "b" in its name to match the increasingly frisky late-afternoon beach behavior.
Away from the sandy sexiness, there's plenty of places to eat and drink, including the charming Ringside Market, AKA "downtown Hornby", a dusty intersection with a grocery and liquor store, gas station, bookstore, ice cream shop, and excellent outdoor Mexican eatery called V0R1Z0 (the island's postal code). Follow the easy winding roads around the island and you'll also discover wineries, a bakery, a distillery, pub, and fish and chip shop, plus plenty of artisans. And kids are everywhere.
The idyllic island's one dirty little secret is this: their fresh water reeks like rotten eggs. Sometimes you can smell it on the beach as well. But hey, if you don't mind showering in it, brushing your teeth in it, and drinking it (it's perfectly safe, it just stinks), then you're that much closer to being a local.
When you're finally forced to leave this made-in-BC paradise, beware of the unattended, honour-system ferry line up. I saw a load of young dudes roll up in car with Quebec plates, butting ahead of half the line up of cars (possibly misunderstanding the signs). As soon as they emerged, they got severely lambasted by a pair of Hornby's finest, fully outfitted eco-seniors. It proved to be a pretty testy situation, but hey, who would ever be in a good mood when leaving such a special place? It's a locale that you can find it right here, in our very own wonderful, watery Salish Sea. Why go anywhere else?
Grant Lawrence is currently guest hosting North By Northwest, weekend mornings on CBC Radio 1 in BC.