June 29, 2015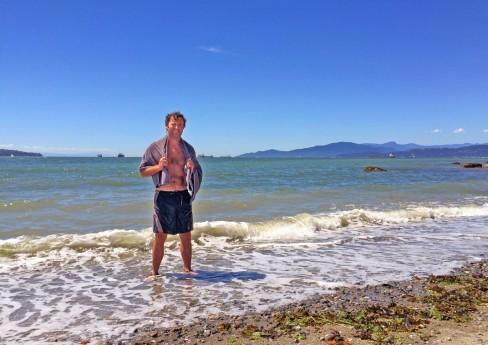 Vancouver's original city planners should be forever thanked for preserving so many of our beautiful beaches. Most of them are world-class, and many of us take them for granted. Since it's beyond beach weather out there, and I've been a Vancouver beach bum most of my life, I've picked my top five. This ranking is based on natural beauty, view, crowds, and mostly importantly for me, swim-ability. So grab your beach blanket, your sunscreen, a great book, and your sexiest trunks. We're going to the beach!
5. Jericho
When it comes to our many spectacular West Side beaches, Jericho is king. The beach is located at the end of Point Grey Road and borders the site of the Vancouver Folk Music Festival. With amazing mountain views, this beach is a natural bay of sand, with a steady incline into the ocean, so you're in deep enough to swim right away. That's the problem with Locarno, Spanish Banks, and Wreck: you have to wade out way too far in ankle-deep water before you can swim.
4. New Brighton
East Van's finest beach! Though admittedly buffered by industry on either side, this is a hidden gem of Hastings-Sunrise that boasts absolutely stunning views of Burrard Inlet, all the way from the Ironworkers Memorial Bridge to Lion's Gate. The beach is usually very quiet, possibly because of signs everywhere prohibiting swimming due to the very fast current. While most people hit up New Brighton Pool, much to my wife's chagrin, I still take the occasion dip at the beach in the height of summer. It's cold that close to the narrows, but very refreshing after a bike ride. Do not enter the ocean here if you are not a strong swimmer, and don't go beyond where your feet can touch bottom.
3. Sandy Cove
This is admittedly a bit of a cheat, since this tiny oceanic oasis is tucked away along the rocky shoreline of West Vancouver, but it's definitely worth the hunt. It's an unmarked beach, located about 10 minutes west of Dundarave. Look for Rose Crescent, then take the set of stone steps through the woods to the beach. When you emerge it'll feel like you've gone to Greece. Between jagged granite cliffs is a 100-metre stretch of sand and driftwood logs with excellent, clean swimming, and gorgeous views of UBC, Vancouver Island, and Howe Sound.
2. Bikini Beach
This is Vancouver's greatest swimming beach. Sandwiched halfway between English Bay and Second Beach, this is a tiny spot located right at the entrance to Stanley Park. The natural sand has an excellent incline and the warmest water of any beach in the city. According to the regulars who have hung out there, literally, for generations, the beach received its name when bikinis were first revealed and deemed too scandalous for our main beaches, so the teenagers of the day gathered here, out of the line of sight of the lifeguards.
1. Third Beach
Found on the far western edge of Stanley Park and back dropped by magnificent cedars, Third Beach is not only Vancouver's most spectacular beach, but also one of the greatest urban beaches you'll find in the world. My mom took me to this beach every summer as a kid, and I've loved it ever since. There's no better spot for a swim as the summer sun slowly sets behind the islands of Howe Sound. Like Wreck, Third Beach has developed its own unique scene, specifically over the past decade, meaning the north end can pretty much be taken over by a sea of half-naked hipsters transplanted from the Biltmore, but it's still Vancouver's absolute best beach.
What is your favourite (or least favourite) beach in the city and why? Tweet me up @grantlawrence or comment below.