February 5, 2015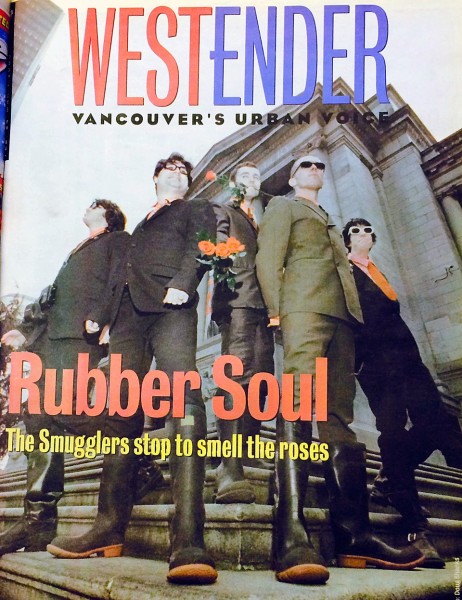 I've read it cover to cover ever since I first picked it up at a downtown cafe when I was a curious teenager about 25 years ago… my band The Smugglers were lucky enough to be on the cover almost 15 years ago exactly (see above) … and now, in 2015, I'm proud to announce that, as Vancouver's oldest indie rocker, I am fittingly writing a weekly column for Vancouver's oldest entertainment weekly, The Westender.
The column is called Vancouver Shakedown, which is mostly a reference to an old Smugglers chestnut called "Shakedown!". And shaking down Vancouver is what I'll essentially try to do each week for you in print… stories of this city I love so much: good and bad, ugly and beautiful, sad and joyful, and hopefully some funny stuff thrown in there, too.
We have it all in this Terminal City by the sea, and it's the city I've chosen to live in for my entire life. Now I have the pleasure of writing about it each and every week. I consider it an honour, and I hope you enjoy.
You can read my inaugural column here. The Westender comes out every Thursday and is available for free throughout the city. If you have any subject you'd like me to cover, get in touch on twitter: @grantlawrence #VancouverShakedown. Thanks in advance!
Rock on!
Grant Lawrence
PS. The cover photo above is L-R: David Carswell, Beez, me, Nick Thomas, and… Jeff McCloy. Our pal Jeff was in the Smugglers for about a year in 1998-99, filling in for Beez. For this cover shoot he was filling in yet again, this time for for our drummer Graham Watson, who lived in Nanaimo (still does) and couldn't make the photo shoot. Jeff, Nick, and former Smugglers drummer Bryce Dunn went on to form the Tranzmitors a few years later.