December 29, 2014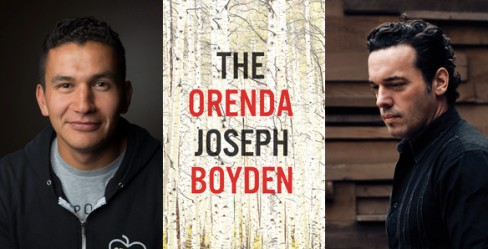 Was it the rising tide of the Idle No More movement? Was it was 'reconciliation' finally becoming accepted vernacular for open-minded Canadians? Was it simply great art being recognized by mainstream Canada? Whatever the case, 2014 was a dominant, award-winning year for exceptional Canadian Aboriginal culture, and hopefully, a sea change of acceptance, mutual understanding, and enjoyment for the future.
Here's some highlights:
The Orenda wins Canada Reads.
Joseph Boyden (who is of Anishinaabe and Scottish heritage) won big on the CBC with his epic and bloody third novel in his Bird family trilogy*. To simply call this bestseller 'historical fiction' is to completely undersell its breakneck pace, drama, and excitement, let alone its reminder that this land's rich human history stretches far before 1867. A must-read for all Canadians, defended deftly to victory by journalist Wab Kinew. (Kinew will host Canada Reads in 2015). *…which actually isn't a trilogy… at the 2014 Whistler Readers and Writers Festival, Boyden announced that he has TWO more books coming that follow the further adventures of the Bird family).
A Tribe Called Red wins the Juno Award for Breakout Group.
Winning a Juno is often about strategy, because an artist can pick which category they hope to be nominated for. Many apply for what feels to be the sure thing; the easiest route. In A Tribe Called Red's case, that category would be Aboriginal Record of the Year. The Ottawa powwow-step trio of First Nations DJs refused to be pigeon-holed to that category, instead going for Breakout Artist of the Year, which almost always goes to a white rock or pop act. Not in 2014.
Tanya Tagaq wins the Polaris Music Prize.
Tanya Tagaq stepped out of Canada's most remote territory, spent years plying her unique musical style, and in 2014, stepped into the limelight of Toronto to win the $30,000 Polaris Music Prize, arguably the country's most prestigious juried music award. Not only did her album Animism win, the Inuk throat singer from Cambridge Bay, Nunavut, dedicated her career-changing performance to Canada's missing Aboriginal women, whose names streamed seemingly endlessly behind her as she raged and contorted on stage.
Thomas King wins two major literary awards for nonfiction and fiction.
Author Thomas King, who is of Cherokee and German-American descent, had a huge literary year. In February, the 71-year-old won the Charles Taylor Prize for his hit international bestseller The Inconvenient Indian, and in November, he won the GG Award for The Back of the Turtle, his first novel in 15 years.
First Inuk NHL player Jordin Tootoo publishes bestselling memoir.
All The Way: My Life on Ice may not have won any awards in 2014, but it was an instant national bestseller. Jordin Tootoo's brutal, extremely raw, honest memoir of his struggle to get to and stay in the NHL is an infectious read. The highly likeable but damaged Tootoo comes from a far-north background of substance abuse and tragedy, yet he still managed to become an elite athlete, and be the first-ever Inuk / first-ever player from Nunavut in the NHL. The ridiculous racism he endured at the minor league level alone is sickening. And Joseph Boyden wrote the introduction. Full circle.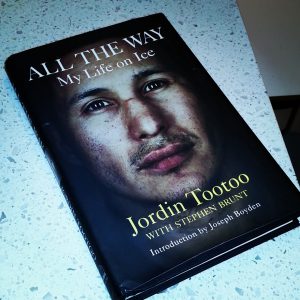 Let me know your thoughts in the comments section! Thanks for reading.