January 15, 2014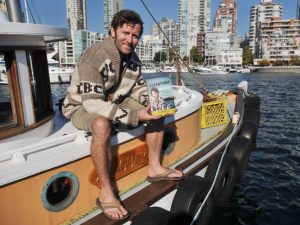 Even though it was five years ago, I remember the question within the email like it was yesterday: "What are your measurements?"
The kind person who wrote the email wanted to knit me a sweater. Sadly, it took me forever to email back my torso measurements, but I sure was glad I eventually did, because a few months later my customized measurements turned into the famed CBC Sweater courtesy of Granted Clothing (no relation).
I was overcome by the sheer majesty of the custom-knit CBC sweater… the workwomanship that went into it… the quality of the wool… the little details like the wooden zipper clip… and the glove-perfect fit. I felt so bad that I had been nonchalant and downright dismissive about sending in my measurements that I promised the kind family that runs Granted Clothing that I would wear the sweater EVERYWHERE.
I've made good on my promise. In the past five years I've worn the CBC sweater in nine provinces, two territories and four countries. I've worn the CBC sweater on stage at folk festivals in Dawson City, Vancouver, Winnipeg, Antigonish, Yellowknife and others.
I've worn it in rock clubs in Toronto, Ottawa, Montreal, and Austin, Texas. I wore it every day of the 2010 Winter Olympics in Vancouver. It's been my uniform on the Tracks on Tracks train adventure across the country and the CBC Beetle Roadtrip.
This fall, CBC Radio 3 listener "McS" knitted a matching version of the CBC Sweater for my baby boy Joshua. Suffice to say, I LOVE THAT CBC SWEATER (and my baby).
So you can imagine my shock and horror, when, on my recent book tour for The Lonely End of the Rink, I made my first mistake. I forgot the CBC Sweater in an overhead bin on a tiny Air Canada plane I hopped between Calgary and Edmonton on December 9.
The realization that I didn't have the CBC Sweater slammed me in the chest like a rodeo bull as I shivered in a taxi in the middle of a blizzard on the way to CBC Calgary for an interview with the afternoon radio show. It was too late to turn back.
CBC afternoon show host Doug Dirks had seen my panicked freak-out missing-sweater tweets and brought it up in the interview. That caught the ear of Jennifer Stewart, who works for Air Canada in Calgary. She tweeted me and vowed to find the CBC Sweater and return it to me. That was over a month ago. IT WAS GONE.
During that time, Jennifer let me know that the sweater had actually been located in – of all places – Grand Prairie, Alberta. After that, the sweater made its way to Edmonton, and then down to Calgary, where, briefly in late December, just before Christmas, the CBC Sweater was actually physically in Jennifer's hands. It was found safe and sound. Or so I thought.
That's when I made my second mistake. Should I have the sweater mailed home, or take up Jennifer on her kindly offer to send the sweater on an Air Canada flight to Vancouver so that I could pick up it up at the airport when I returned from an Ontario holiday after Christmas?
I should have had it mailed home, because that's when I made my third mistake. We extended our Ontario holiday. I missed the pick up date in Vancouver. By the time I got to the baggage counter in Vancouver after Christmas, the CBC Sweater was gone, apparently banished to the giant, bottomless Air Canada lost and found vat, located in Montreal.
There are so many lost items in this container that it apparently resembles the trash compactor from Star Wars. It is so massive, and so unwieldy as more and more lost items are tossed in, that there is NO PHONE NUMBER for Air Canada's main lost and found. Not even Air Canada employees can call.
Jennifer was very worried. I had pretty much given up all hope. Another Air Canada employee who wished to remain nameless described the lost and found as a "black hole" swirling with more lost loot than Saddam Hussein's bunker. IT WAS GONE.
That's when my lifelong friend Megan Barnes stepped into the fray early in the New Year, letting me know that her ball-bustin' linebacker-sized cousin Chris Bennett works at the baggage department of Air Canada. I still didn't get my hopes up.
Two days ago, my phone rang at 6:15am.
"WTF?" I thought groggily, glancing at the number. Didn't recognize it, didn't answer it. The phone rang again. And again. I finally answered.
A gruff voice on the other end asked "Is this Moore?"
"Uh, no, you have the wrong number". I was about to hang up.
"Are you missing a CBC Sweater?"
I bolted straight upright in bed, suddenly wide awake, whipping my cucumber sleeping mask from my eyes. "YES, YES!"
"So, your name is Moore".
"NO! It's Lawrence! And I'm missing a CBC Sweater!"
"We may have located the CBC Sweater. Come and pick it up today at the Air Canada baggage counter in Vancouver. Ask for Marco".
I leapt out of bed, pulled on a t-shirt and ran out the door. Realizing I was shirtcocking, I ran back inside and put on shoes and socks and stumbled to the car.
Marco and Dora were waiting for me at the Air Canada baggage counter with wide smiles. They pulled out a crumpled white plastic bag, that sure enough, inexplicably labelled "MOORE". From out of the bag unfurled the CBC Sweater, missing for 34 days. My friend Megan's cousin Chris had beaten the bushes and eventually it turned up.
THANK YOU to Jennifer, Chris, Marco, Dora, and everyone at Air Canada who tracked it down. Thanks to Doug Dirks at CBC Calgary, Megan Barnes, Granted Clothing, Allison Outhit (for the title of this post), and YOU for caring. You'll see the rescued CBC Sweater on the folk fest stages this summer!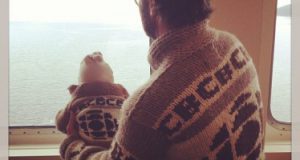 Related:
Top ten highlights of The Lonely End of the Rink book tour
Orca whales help celebrate 30 years in Desolation Sound