December 20, 2013
5,812 kilometres. 30 events. 25 musicians. 12 libraries. 10 flights. 8 bars. 5 arts centres. 4 theatres. 3 bookstores. 2 rental cars. 1 lost CBC Sweater.
Yes, "The Lonely End of the Rink" book tour is complete. And I survived it! Here are my top ten memories of the last three months on the book touring circuit of Canada…
10. BC Sports Hall of Fame. If someone were to ever tell me, Canada's #1 non-jock for the vast majority of my life, that I would one day launch a book at an actual sports hall of fame, surrounded by trophies and Olympic medals and jerseys, I would tell them they were crazy. Life is strange and wild if you go with the flow.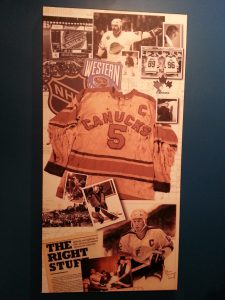 9. The bars. It was a thrill and a throwback to hold events in beer-soaked parlours like the award-winning Phog Lounge in Windsor, the kitschy Copper Owl in Victoria, the Gladstone in Toronto (thanks to Kevin Sylvester for the awesome onstage interview), the possibly perfect Pressed in Ottawa, and the legendary, amazing, 25-years-and-counting Amigos Cantina in Saskatoon.
8. The Ottawa Songbird Millionaires. If there was ever a perfect hockey team in the world, it was the vintage Songbird Millionaires of the 2000's-era Exclaim Cup Hockey Summit. They were a huge inspiration for the Flying Vees because they had so much fun on and off the ice. It was awesome to see so many of them (amazingly) alive and well at the Ottawa launch.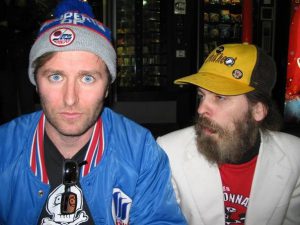 7. Winter. My band the Smugglers had a rule never to tour Canada in December or January. I flew wildly in the face of such wisdom over the past three months, criss-crossing Canada in sub-zero temperatures, the very coldest being -47 in the howling prairie winds of Bruno, Saskatchewan (the frostiest temps I've ever experienced in my life). There were snowstorms in London, Calgary, and freezing first-time adventures in Kimberley, McBride, Valemount, and Fort St. James, but I made it through and truly appreciated the beauty and brutality of it all.
6. Fernie, BC. There's something magical about this little town. I couldn't think of a better place to end the road portion of the tour than in this snowy Rocky Mountain oasis for authors and readers alike. Thanks to all who filled Canada's most beautiful library once again.
5. The catalysts. The stories contained within the new book wouldn't have happened without a few key people: Rob Fleming, now a BC MLA in Victoria, was the kid who showed me the VHS tape of David Letterman reading out my letter on TV, a turning point in my teenage life; Johnny Hanson, now living in Lund BC, the lead singer of the Hanson Brothers, was the guy who showed me that music and hockey can co-exist; and Tom Goodwin, the founder of the arts-based Exclaim Hockey Summit, who urged me to form a hockey team of my own in Vancouver to "take back the game". It was great to see Rob in Victoria, Johnny in Powell River, and Tom in Toronto.
4. The hockey cards. For whatever extremely generous reason, my CBC colleague Jo-Ann Roberts gave me her personally signed Bobby Orr rookie card at the book launch in Victoria. In Kingston, I was given a signed rookie card by Edmonton Oilers star Taylor Hall by none other than his mom! Thanks, ladies!
3. The musicians. Almost every event was made special by a vast array of independent Canadian musicians who so incredibly and kindly performed a song or two or three. I owe you each a deep debt of gratitude for sharing your music and your talent at these events: Bodhi Jones (Vancouver), Matt Lockhart, Rae Spoon (Victoria), Slim Milkie (Powell River), JF Robitaille (Montreal), Matthew Barber (Kingston + Toronto), The Matinee (Toronto) Crissi Cochrane (Windsor), Marty Kolls (London), Chris Page, Andrew Vincent (Ottawa), Maybe Smith (Saskatoon), Kristen Berkel (Bruno), Mike McDonald (Edmonton), KJ Jansen, Matt Masters (Calgary), The Good Ol' Goats (Cranbrook), Red Girl (Fernie), and my wife, Jill Barber, in West Vancouver. THANK YOU!
2. The Gruesomes. It would be hard to impress upon you just how massively influential the Montreal band the Gruesomes were to me when I was a teenager. They meant EVERYTHING to me, inspiring me to form my own clone-band that went on to last for 17 years. Suffice to say, it was hugely exciting for me to reunite with three of four Gruesomes (Bobby Beaton and John Davis in Montreal; Gerry Alvarez in Toronto) on the book tour.
1. CBC Radio 3 Fans. Wind, rain, sleet or snow. It all poured down across the country over the past few months, but that didn't stop you. You were always there. In toques, scarves, and t-shirts. Offering cookies, cupcakes, beer, caramel corn, and baby gifts for Joshua. My deepest thanks to the legions of CBC Radio 3 fans, who, no matter what, made it out to these book events and were often in the front row. Your ongoing support and unflagging enthusiasm for music, arts, friendship and community is hugely inspiring. I can't do this shit without you!
Thanks to everyone who came out to one or more of these 30 events, to anyone who bought a book, to the librarians, bookstores, media, promoters, Douglas and McIntyre, Killbeat, and the bar owners… thanks to all for what you do for Canadian culture.
Merry Christmas, Happy New Year, and happy holidays to all –
Grant Lawrence
PS. Yes, I lost the CBC Sweater. It was my own fault. I left it in the overhead bin of my flight from Edmonton to Calgary. Jennifer at Air Canada has been great tracking the sweater as it made stops in Grand Prairie, back to Edmonton, threatened to go to the giant Air Canada Lost and Found bin in Montreal (which apparently resembles the trash compactor from Star Wars), but the sweater is finally apparently en route back to Vancouver. I should be able to pick it up sometime after the holidays!