Writing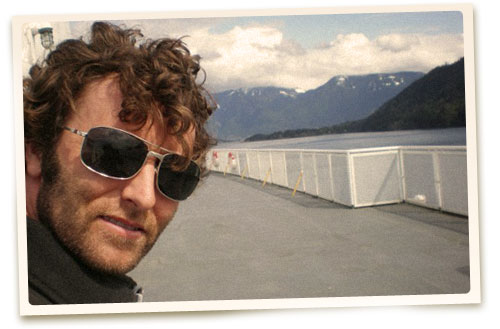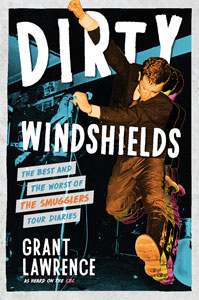 In the spring of 2017, Grant Lawrence releases his third book, Dirty Windshields: the best and the worst of the Smugglers tour diaries. A pre-order offer will be available to you soon.
Early praise for Dirty Windshields:
"This true tale of innocents abroad is a testament to the power of unshakable optimism in the face of utter cluelessness and should serve as a flashing red light warning to anyone who imagines that touring the world in a band is non-stop fun. But somehow the laughs keep coming. Told with equal measures pride and shame, this uproarious chronicle of vans, violence, alcohol, cops, fires, floods, blizzards, wrong turns, crooked club owners, actual snakes, robbery, bodily fluids and calamities of all sorts is the perfect companion to the band's mega-fun music." – Ira Robbins, NYC rock writer (Rolling Stone, SPIN, Village Voice, Creem, Newsday, Entertainment Weekly, Mojo, Trouser Press)
"I can't imagine a more perfect rock n' roll book. Besides being chalk-full of wildly entertaining tales about life on the road, Dirty Windshields could also serve as a practical handbook for aspiring bands. I finished the last page and immediately re-evaluated my own career. Are we hustling enough? Are we touring enough?? Are we partying enough???" – Tyler Bancroft, Said the Whale
"Dirty Windshields gives you more than a glimpse into the tour life of a real rock and roll band—one page in and you've become an accomplice to the revelry that is The Smugglers On Tour.  In my many years of touring, I have never witnessed a band like the Smugglers; charmingly cocky, suit-wearing road dogs—hard-working and hospitable to boot. They simply cannot help being the life of the party—nightly. From the first time I watched them storm the stage to perform feverish crowd-pleasers like "Booze Can", "Pick 'Em Up Truck", and "To Serve, Protect and Entertain", I became an instant fan of their music and live show. Lawrence's masterful way of earnestly telling outlandish and fucking hilarious true stories with a dash of impish fervor will leave you longing to strap on your galoshes and hit the road with this lovable band of devilish trailblazers." —Allison Robertson a.k.a "Donna R", The Donnas
"Dirty Windshields should come with a disclaimer: 'WARNING: May induce feelings of wanderlust and the itching desire to throw a guitar case into the back of a van and hit the road, if not to Japan or Australia, at least to Moose Jaw or Thunder Bay.' An endearing, fun, and wistful look at music, youth, dreams and travel." —Will Ferguson, author (419, How To Be A Canadian, Road Trip to Rwanda)
"Grant Lawrence taught me everything I know about touring! Buckle up for an epic tale told by one of rock 'n' roll's greatest storytellers. Dirty Windshields is a shotgun seat on a beer-and-body-fluid-soaked wild ride you'll never forget!" – Lisa Marr, cub
"Wow! The details are different but the story is very similar to my own. Of course, I was on the east coast of Canada, and my band was actually pretty good, but the themes are universal." – Chris Murphy, Sloan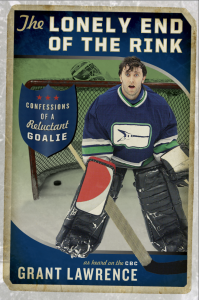 In the fall of 2013, Grant Lawrence released his second book, The Lonely End of the Rink: Confessions of a Reluctant Goalie.The new memoir is Grant's official follow up to his bestselling debut Adventures in Solitude. The new book is fittingly divided into three "periods", each one chronicling a different, tumultuous time in Grant's conflicted relationship with the game of hockey, and his reluctant position as goaltender. Each "period" is also backdropped by the Vancouver Canucks' three failed attempts to win the Stanley Cup in 1982, 1994, and 2011. The title is from a song by the Tragically Hip. The book debuted at #3 on the Canadian National Nonfiction Paperback Bestsellers List, hit #1 on the BC Bestsellers List, and won the BC Book Prize for the 2014 Book of the Year.
Praise for The Lonely End of the Rink:
"Soul-searching, candid, and clever, The Lonely End of the Rink is a remarkable account of being bullied and, through hockey and music, learning to fight back.  When Gord Downie of The Tragically Hip, Greg Keelor from Blue Rodeo, Alan Doyle of Great Big Sea or Andy Maize of the Skydiggers let go a vocal arrow they know it's not about region or rebellion or any other noun which might serve as a cause. Shaped by their surroundings, they just react. Like Grant, they are singer-songwriters, and they are all goaltenders. They know one thing saves: the promise of another start. – Ron MacLean, Hockey Night In Canada.
"The Lonely End of the Rink captures the many ways hockey connects our nation. Like Lawrence's 'wounded moth' style of goaltending, it's not always pretty, but this is a funny, poignant and very Canadian story, filled with thrills and chills–like a miracle blocker save that wins the game." – Kevin Sylvester, CBC broadcaster, author, goalie.
"A deft storyteller, Grant Lawrence is equal parts heartbreaking and hilarious in this personal exploration of the intersection between bullying and Canada's favourite sport. He chronicles his fascination with "the lonely end of the rink" & strives to understand how he fell in love with a game where bullies win." – Angie Abdou, author of The Bone Cage.
"Like David Sedaris in a Canadian tuxedo, Grant Lawrence's brutally honest descriptions of his torment at the hands of bullies had me cringing one moment and laughing out loud the next. His passionate and introspective study of his relationship to the game was a real eye opener; as a pro you can easily lose sight of the degree to which hockey holds sway in everyday lives across Canada. I loved it." - Boyd Devereaux, Stanley Cup champion, Detroit Red Wings.
"Equal parts hilarity and hurt, The Lonely End of the Rink explores the pervasiveness of hockey in Canadian culture and Lawrence's journey to alcohol-induced enlightenment". – The Hockey News
Purchase The Lonely End of the Rink: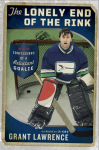 You may now pre-order you own personally signed copy of Grant's second book The Lonely End of the Rink! If the book should be inscribed to someone other than the purchaser, please make special note of it in the PayPal purchase. Cost is CAD$25.00 + $10.00 shipping and handling. Overseas orders, please add $10.00 for long distance shipping.
…or mail a cheque or money order for $35.00 payable to Grant Lawrence, 700 Hamilton Street, Vancouver BC, V6B 4A 2 Canada. Read the reviews of The Lonely End of the Rink: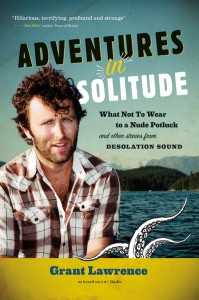 Adventures in Solitude is Grant's first book, a memoir of his time spent at his family cabin in Desolation Sound on the wild west coast of BC. The first half of the book chronicles Grant's childhood when he wanted to be anywhere but Desolation Sound. The second half chronicles his rediscovery of the Sound as an adult, falling in love with the adventure, mystery, and outrageous characters found at this unique end of the road Canadian location. The title is from one of Grant's favourite songs by Vancouver band the New Pornographers, found on the album Challengers. Adventures in Solitude was released in October 2010; one month later was declared  #1 on the BC Bestsellers List; two months later it went to #2 on the Canadian National Nonfiction Bestsellers List. Adventures in Solitude was listed as one of the top ten best books of 2010 in the Vancouver Sun, Calgary Herald, and Montreal Gazette, won the BC Book Prize for the 2010 Book of the Year and was a finalist for the Hilary Weston Writers Trust Prize, the largest nonfiction prize in Canada.
Praise for Adventures in Solitude:
"By turns hilarious, terrifying, profound and strange, Adventures in Solitude is the great lost Canadian adventure story; Swiss Family Robinson as if rendered by Ken Kesey in his youth, a kind of Lord of the Flies through a fog of BC chronic." – Dave Bidini, author of On A Cold Road, and Tropic of Hockey.
"Grant Lawrence is a raconteur extraordinaire. With Adventures in Solitude, he reinvents his rock'n'roll persona to become part Bruno Gerussi, part Stuart McLean, part David Cross… A harrowing and hilarious tale of how a zit-ridden nerd survived hippie orgies, family feuds, and a rugged Canadian coastline that defeated one of history's greatest explorers." – Michael Barclay, writer, Macleans Magazine
"Wow! The details are different but the story is very similar to my own: Being dragged kicking and screaming to a remote location with the family as a child, later rejecting it and refusing to go for 15 years or so and then going back and trying to figure out what my problem was. Of course, I was on the east coast of Canada, I never allowed my parents' house to be destroyed by teenage hooligans and my band was actually pretty good, but the themes are universal." – Chris Murphy, bassist, Sloan
"Smart, wry, self-deprecating, irreverent: it turns out that Grant Lawrence on the page is just like Grant Lawrence on CBC Radio. Adventures in Solitude is his wonderfully told story about his deepening connection to a remote, coastal place, to its rich history and its ample stock of outlandish characters, of which he is now one. It's also a story about family and selfhood and love and music and occasional rowdiness." – Bill Richardson, CBC Radio host, author
"Who better to enliven Desolation Sound, this haven for boaters, counterculturalists and eccentric loners than someone conversant with all of them, musician-journalist Grant Lawrence. Lawrence, who came of age between these waters and the rustic-modern continuum of West Vancouver, gives us a thoughtful, and engaging, picture of people and place, time and tide – in one of the most alluring settings on earth". – Michael Turner, author, Pornographer's Poem, Hard Core Logo
Read the reviews of Adventures in Solitude:
Purchase Adventures in Solitude:
You may now order your own personally signed copy of Grant's first book Adventures in Solitude! If the book should be inscribed to someone other than the purchaser, please make a note in the Paypal purchase. Cost is CAD $25.00 + $10.00shipping and handling.
… or mail a $35 cheque or money order payable to… Grant Lawrence 700 Hamilton St. Vancouver BC V6B 4A2 Canada Adventures in Solitude and The Lonely End of the Rink are also available on Kindle or as an iBook. For more information, please contact Annie Boyar, Harbour Publishing, 604-883-2730, email: annie@harbourpublishing.com.