Writing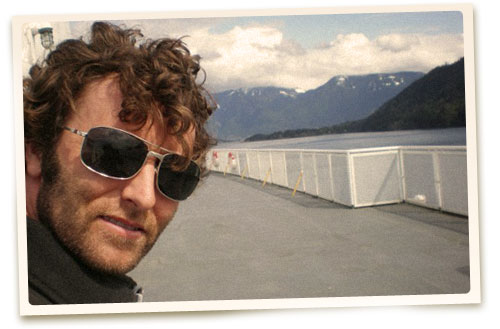 Grant Lawrence is currently working on two new books, to be published in the spring of 2013 and the fall of 2014. One of the books is about his long career as an independent musician with his band The Smugglers, and the other is about his life-long love/hate relationship with hockey, as a gimpy, cantankerous, championship-winning goalie. Until then…
Adventures in Solitude is Grant's first book, a memoir of his time spent at his family cabin in Desolation Sound on the wild west coast of BC. The first half of the book chronicles Grant's childhood when he wanted to be anywhere but Desolation Sound. The second half chronicles his rediscovery of the Sound as an adult, falling in love with the adventure, mystery, and outrageous characters found at this unique end of the road Canadian location. The title is from one of Grant's favourite songs by Vancouver band the New Pornographers, found on the album Challengers. Adventures in Solitude was released in October 2010; one month later was declared  #1 on the BC Bestsellers List; two months later it went to #2 on the Canadian National Nonfiction Bestsellers List. Adventures in Solitude was listed as one of the top ten best books of 2010 in the Vancouver Sun, Calgary Herald, and Montreal Gazette, won the BC Book Prize for the 2010 Book of the Year and was a finalist for the Hilary Weston Writers Trust Prize, the largest nonfiction prize in Canada.
Praise for Adventures in Solitude:
"By turns hilarious, terrifying, profound and strange, Adventures in Solitude is the great lost Canadian adventure story; Swiss Family Robinson as if rendered by Ken Kesey in his youth, a kind of Lord of the Flies through a fog of BC chronic."
- Dave Bidini, author of On A Cold Road, and Tropic of Hockey.
"Grant Lawrence is a raconteur extraordinaire. With Adventures in Solitude, he reinvents his rock'n'roll persona to become part Bruno Gerussi, part Stuart McLean, part David Cross… A harrowing and hilarious tale of how a zit-ridden nerd survived hippie orgies, family feuds, and a rugged Canadian coastline that defeated one of history's greatest explorers."
- Michael Barclay, writer, Macleans Magazine
"Wow! The details are different but the story is very similar to my own: Being dragged kicking and screaming to a remote location with the family as a child, later rejecting it and refusing to go for 15 years or so and then going back and trying to figure out what my problem was. Of course, I was on the east coast of Canada, I never allowed my parents' house to be destroyed by teenage hooligans and my band was actually pretty good, but the themes are universal."
- Chris Murphy, bassist, Sloan
"Smart, wry, self-deprecating, irreverent: it turns out that Grant Lawrence on the page is just like Grant Lawrence on CBC Radio. Adventures in Solitude is his wonderfully told story about his deepening connection to a remote, coastal place, to its rich history and its ample stock of outlandish characters, of which he is now one. It's also a story about family and selfhood and love and music and occasional rowdiness."
- Bill Richardson, CBC Radio host, author
"Who better to enliven Desolation Sound, this haven for boaters, counterculturalists and eccentric loners than someone conversant with all of them, musician-journalist Grant Lawrence. Lawrence, who came of age between these waters and the rustic-modern continuum of West Vancouver, gives us a thoughtful, and engaging, picture of people and place, time and tide – in one of the most alluring settings on earth".
- Michael Turner, author, Pornographer's Poem, Hard Core Logo
Read the reviews:
Purchase Adventures in Solitude:
You may now order your own personally signed copy of Grant's first book Adventures in Solitude! If the book should be inscribed to someone other than the purchaser, please make a note in the Paypal purchase. Cost is $25.00 + $5.00 shipping and handling in the currency of your country.
Your browser does not support iframes.
… or mail a $30 cheque or money order payable to…
Grant Lawrence
700 Hamilton St.
Vancouver BC
V6B 4A2
Canada
Adventures in Solitude is also available on Kindle or as an iBook. Published October, 2010 with Harbour Publishing.
For more information, please contact Marisa Alps, Harbour Publishing,
604-883-2730, email: marisa@harbourpublishing.com.