May 30, 2018
AUTHOR, BROADCASTER, AND MUSICIAN GRANT LAWRENCE RECEIVES INDEPENDENT PUBLISHER ("IPPY") BOOK AWARD IN NEW YORK FOR DIRTY WINDSHIELDS : THE BEST AND THE WORST OF THE SMUGGLERS TOUR DIARIES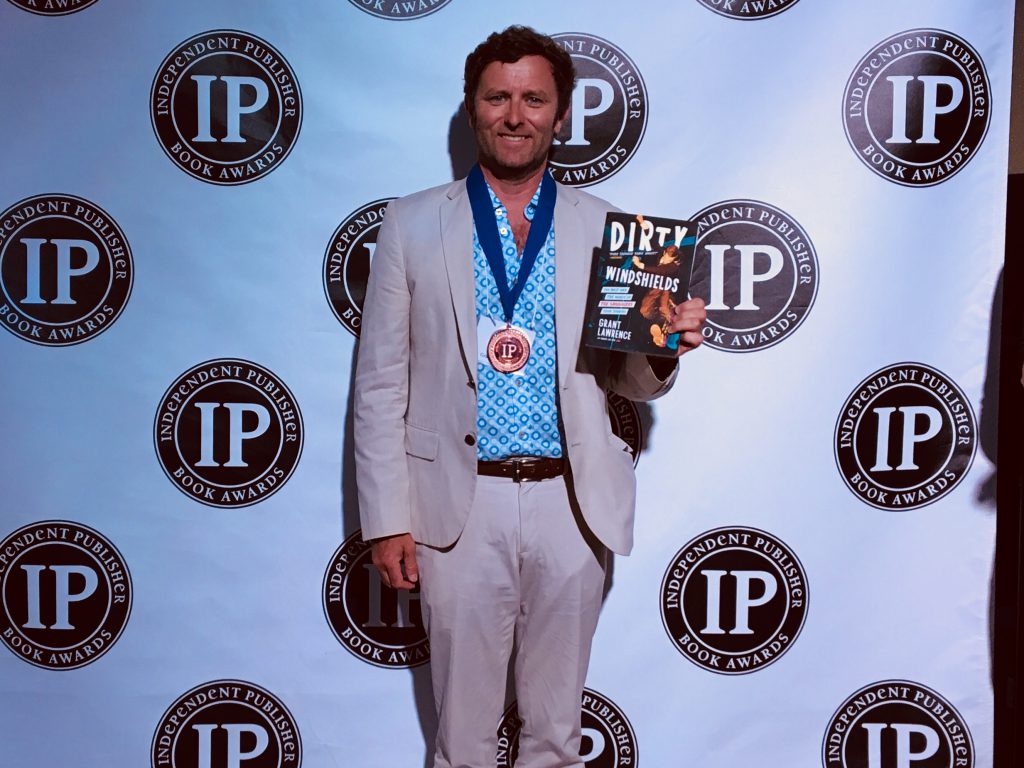 In a ceremony on May 29, 2018, at the legendary Copacabana in Times Square, Canadian author and CBC personality Grant Lawrence won a medal for his latest book, Dirty Windshields: The Best And The Worst Of The Smugglers Tour Diaries (Douglas and McIntyre, 2017).
Dirty Windshields has been awarded the 2018 Independent Publisher Book Awards medal ("IPPY Award") in the category of Performing Arts (Music/Dance/Cinema/Theatre).
Dirty Windshields is Lawrence's outrageous non-fiction chronicle of his 14 years of touring the world in the infamous Vancouver garage rock band the Smugglers, for which he was the lead vocalist, frontman, and raconteur.
"Over the years, the Smugglers played plenty of shows in New York, from CBGB to the Roxy to Coney Island High", remembers Lawrence. "But I have to say, receiving a medal for those sordid stories all these years later, at the Copacabana in Times Square, is something I won't forget."
The Copacabana has served as a set for such films as Goodfellas, Raging Bull, and Carlito's Way, and was the nightclub of choice for the Supremes' 1965 live album Live At The Copa.
"It was amazing to be in that room full of authors and publishers from all over the world, and to receive an award for a bunch of tour diaries that I scribbled down in Hilroy notebooks twenty years ago", noted Lawrence.
"The Smugglers tour diaries were originally a deal I made with my dad. The only way he would allow me to be in a touring band was if I promised him I'd write the misery down. So… thanks Dad!"
Lawrence's previous two books, Adventures in Solitude (Harbour Publishing, 2010) and The Lonely End of the Rink (Douglas and McIntyre, 2013), were both award-winning bestsellers. The 2018 IPPY medal is Lawrence's first international award for writing.
The "IPPY" Awards launched in 1996 and are designed to recognize excellence in independent publishing, and to bring increased recognition to deserving but often unsung titles published by independent authors and publishers. Established as the first awards program exclusively for independent publishers, thousands of "IPPYs" have been awarded to authors and publishers around the world. Read more about the IPPY Awards here.
UPCOMING LIVE EVENTS
Jul 14 Vancouver, BC – Vancouver Folk Music Festival, Jericho Beach Park
Aug 18 – Quadra Island, BC – Heriot Bay Inn
Aug 19 – Gabriola Island, BC – Gabriola Island Arts Festival
Oct 11 – Oct 14 – Whistler, BC – Whistler Writers Festival