April 11, 2018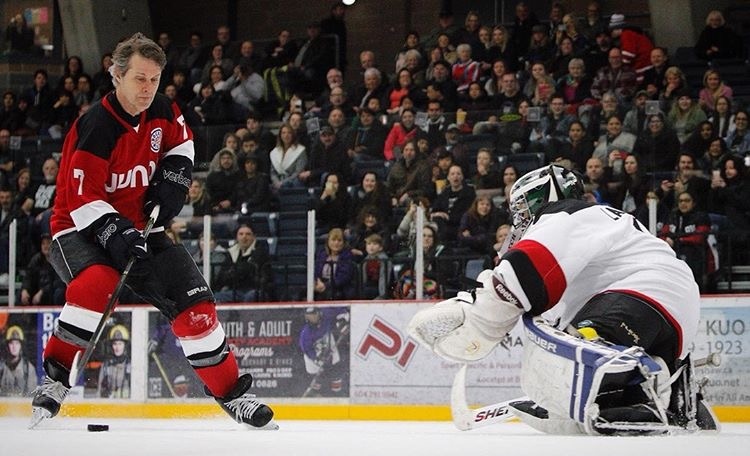 Yes, that's Jim Cuddy from Blue Rodeo without the helmet, and yes, that's me trying to make the save (for the record, Cuddy didn't score). This photo was taken at the 2018 Juno Cup charity hockey game by none other than Canadian Olympic gold medal champion rower Kevin Light. The craziness of those last few sentences pretty much sum up my 2018 so far. It's been busy, and a bit of blur. You can read more about my Juno experience here.
Book news: I'm honoured to announce that Dirty Windshields: the best and the worst of the Smugglers tour diaries has been nominated for a BC Book Prize! The award show gala is on Friday May 4 in Vancouver.
Radio news: I've had an amazing time telling the life story of "Cougar" Nancy Crowther, the Cougar Queen of Okeover Inlet, in weekly segments on CBC Radio 1 in BC this year in a series called The Cougar Lady Chronicles. If you've read my first book, Adventures in Solitude, you may remember Nancy as the first person in the Desolation Sound area that my family ever met. Most people extended a hand. She extended a gun. If you missed the series, it's available on podcast by searching 'Cougar Lady Chronicles' or you can listen to all 15 episodes here.
Live show news: We've been having a blast with our new touring show Grant Lawrence and Friends: an Evening of Stories and Songs. The event is exactly that: I read stories from my books and songs are performed by friends between stories. It has so far featured my wife Jill Barber, my pal and hockey teammate Dustin Bentall, and the Smugglers acoustic at each show (co-founding members Adam Woodall and Nick Thomas), as well as special guests like Craig Northey (the Odds) and Lauren Mann (CBC Searchlight winner). So far we've hosted sold-out BC shows on Bowen Island, Pender Island, and in Brackendale and Deep Cove. We'll do a few more this summer. Please see dates below.
Writing news: After three years of scribing Vancouver Shakedown, a weekly column in the WestEnder, the paper suddenly ceased to exist at the end of 2017 after about 80 years of publication. Then, after about a month or so of actually enjoying not filing a column every week, I had the honour of being asked to continue Vancouver Shakedown as a joint-column, appearing in both the weekly Vancouver Courier and on VancouverIsAwesome.com. Here's a recent one on Vancouver band Slow.
Upcoming shows and appearances:
Friday April 20, North Shore Writers Festival, West Vancouver Public Library
Friday May 4, BC Book Prizes, Pinnacle Harbour Front Hotel, Vancouver
Friday May 11 – Sunday May 13, Word on the Lake Writers Festival, Salmon Arm BC
Saturday July 14, Vancouver Folk Music Festival, Jericho Beach Park, Vancouver BC*
Sunday August 19, Gabriola Island Arts Festival, Gabriola Island, BC*
Thu Oct 11 – Sun Oct 14, Whistler Writers Festival, Whistler BC
More details and tickets here.
*Grant Lawrence and Friends: Stories and Songs event

Questions? Comments? grant.lawrence@cbc.ca