February 28, 2017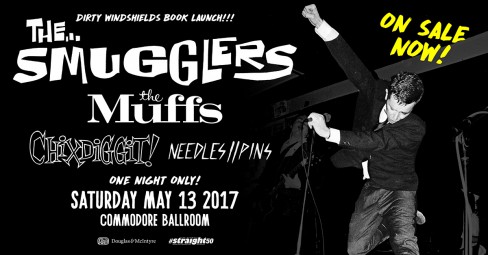 Hello!
There are a few tickets for the Smugglers reunion / "Dirty Windshields" book launch still available at Red Cat Records or here!
Weekend overview:
FRIDAY: On the evening of Friday May 12, we'll be having a "welcome party" at 8pm for the bands and out-of-town guests at What's Up? Hot Dog!, at 2481 East Hastings Street. I'll be doing a reading from Dirty Windshields, there will be a special guest DJ Bobby Martinez from Oakland California, punk rock trivia, ticket giveaways, and a very special appearance by Larry Livermore, co-founder of Lookout Records, reading from his book How To Ru(i)n A Record Label! Readings at roughly 8:30pm. Space is extremely limited.
SATURDAY: The East Van Baseball League will host two special games between the Black Sox vs. the Mount Pleasant Murder (1pm) and the Isotopes vs. The Chinatown Cobras for your enjoyment at Strathcona Park. Members of the Muffs and Chixdiggit will be throwing out the first pitch and singing the anthem for the 1pm game!
The event at the Commodore on Saturday May 13 is an early show! Doors will open at 7pm, and the set times will be as follow:
7:30pm – Grant Lawrence reading
8:00pm – Needles//Pins
8:45pm – Chixdiggit
9:30pm – The Muffs
10:30pm – The Smugglers
11:30pm – book signing
Books will be on sale and I'll be at the signing table at the beginning and end of the night. The Commodore serves a full dinner menu, and there is a pretty healthy happy hour at the adjoining street-level bar the Bottleneck.
SUNDAY: On Sunday May 14, there will be a "send off brunch" at the Regal Beagle in Kitsilano. This will mainly be a CBC Radio 3 listener group, but you are more than welcome to join. (The previously schedule Tomahawk BBQ in North Vancouver hosted by Nardwuar is cancelled due to Mother's Day brunch insanity).
Transit:
Taxis, Sky Train, Canada Line and city buses are your best bet, since Vancouver is the biggest major city in North America still without Uber. Sorry! We do have rapid transit from our airport to downtown, however (The Canada Line) which drops you off within two blocks of the Commodore.
Drug warning:
My barber insisted to warn you that if you're coming in from out of town and like to dabble in recreational drugs, be very careful when doing so in Vancouver, or completely avoid doing so in Vancouver, due to the deadly fentanyl epidemic. Please be safe and have fun!
Any other questions, please don't hesitate to ask!
See you in the front row,
The Smugglers