February 17, 2017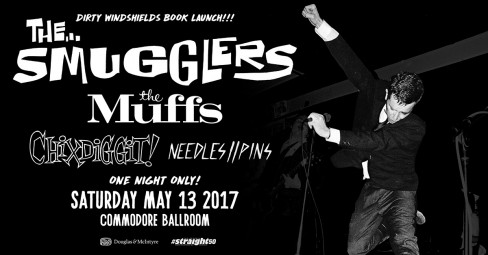 Hello World of Friends!
Hope this finds you well in 2017! There's plenty aboot on my front and I'm eager to share the details with you.
At long last and much writing / deleting / re-writing and very late nights, my rock 'n' roll memoir DIRTY WINDSHIELDS: the best and the worst of the Smugglers tour diaries is finally ready for publication for May 2017 on Douglas and McIntyre. It's a book I've been working on for over ten years and I can't wait to share it with you.
As the title indicates, this new book is a chronological compilation of my (at times cringe-worthy) journals that I scrawled out in a van during the entire run of my band the Smugglers, from 1988 – 2004. I was the lead "singer". I've fleshed the book out with my recounting of the Smugglers broke and drunken story as we trekked across North America and eventually various pockets of the globe. The book recounts our failures (many) and successes (few). But still, we had it pretty good.
We had some wild times alongside bands like the Gruesomes, the Young Fresh Fellows, Mudhoney, the Dwarves, the Mummies, thee Headcoats, the Hives, the Hi-Fives, the Mr T Experience, the Queers, Supersnazz and so many more. All the sordid stories are included.
As always, I'll be launching pre-orders of personally signed copies of the new book along with other perks, likely coming in the first week of March.
To celebrate the book release, the Smugglers are actually getting back together to perform our first hometown Vancouver show in over 13 years at the legendary Commodore Ballroom on Saturday May 13. It's the only venue left from the gigging heyday of the Smugglers, unless you count the Hastings Community Centre. (We played in January in Berkeley, California for a Lookout Records reunion and had a great time).
We're very proud and excited of the show we've put together at this iconic venue and we hope you can join us for the rock 'n' roll party of the year!
THE SMUGGLERS
THE MUFFS (from Los Angeles… first show in Vancouver is almost 20 years)
CHIXDIGGIT (from Calgary… celebrating their 25th anniverary)
NEEDLES // PINS (from Vancouver… newly signed to Mint Records)
SATURDAY MAY 13COMMODORE BALLROOM
VANCOUVER BC CANADA

Tickets go on sale on Friday February 24, 2017. If you're in Vancouver, they're being sold at both Red Cat Records locations. If you're thinking about coming in from out of town, we'll have a whole weekend of really fun festivities planned to be announced soon!
It's gonna be a real gone gasser, so hope you can join in the fun.
Advanced praise for DIRTY WINDSHIELDS:
"Told with equal parts pride and shame, this uproarious chronicle is the perfect companion to the band's mega-fun music." – Ira Robbins, NYC rock writer (Rolling Stone, Village Voice, Creem, Trouser Press)
"Dirty Windshields should come with a disclaimer: 'WARNING: may induce feelings of wanderlust and the itching desire to throw a guitar case into a van and hit the road." – Will Ferguson, Giller Prize winning author
"I can't imagine a more perfect rock 'n' roll book." – Tyler Bancroft, Said the Whale
"An epic tale told by one of rock 'n' roll's greatest storytellers." – Lisa Marr, cub
"Fucking hilarious and a joy to read." – Allison Robertson, the Donnas
"Pure teenage rawk angst!" – Nardwuar
Upcoming events:
February
Fri – Sun 17 – 19, Galiano Literary Festival, Galiano Island BC
Fri 24, West Vancouver Memorial Library, West Vancouver BC (hosting Cea Person's book launch for Nearly Normal)
March
Fri – Sun Mar 10 – 12, Words on the Water, Campbell River BC
April
Fri 7, North Shore Writers Festival, North Vancouver BC
Sat 8, Hope on a Grand Scale Benefit Concert, Kay Meek Centre, West Vancouver BC
May
Sat May 13, DIRTY WINDSHIELDS BOOK LAUNCH w/ the Smugglers and guests, Commodore Ballroom, Vancouver BC
June
Tue 20 Canadian Independent Music Association Awards Gala, Toronto ON