October 19, 2014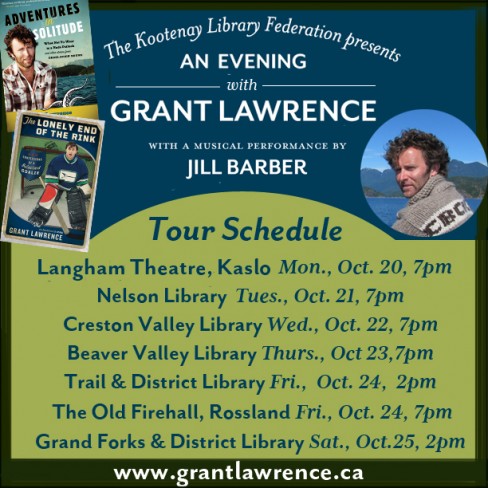 There's just something about the Kootenay region of southeast BC in the fall… maybe it's the spectacular autumn colours, the comforting smell of marijuana (and woodsmoke) in the air, the crisp nights and still-warm days, or the winding roads that lead to amazing towns big and small, the inhabitants of which all seem so incredibly supportive of independent musicians, authors, the CBC, and the arts in general. Suffice to stay I love the place and it's why I keep coming back.
I first discovered the magic of the Kootenays in the 90's when my band would play Nelson and the surrounding small towns, always to spectacularly friendly crowds. When I was invited back to tour the area for my first book, I jumped at the chance. This is now my third time back as an author.
This time, my wife Jill Barber and our son Joshua will be along for the ride. I'll read a couple of stories from both my books and show some slides, do a Q+A and signing, and if Joshua behaves, Jill will also sing a couple of songs and chat about her new children's book Music Is For Everyone. All events are free.
If you're in the West Kootenays, hope to see you this week. If you know someone in the West Koots, send them our way!