March 5, 2014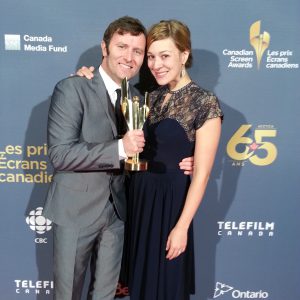 After 15 years of working on radio at the CBC, I never imagined that I would win something called a Canadian Screen Award. That's right, Screen Award. It's a golden statue, about a foot or so high, and surprisingly heavy. My team won in the category of Best Original Program or Series produced for Digital Media.
Here's how in the hell it ever happened: Last year, I embarked on an outrageous opus that became known as CBC Music Presents: The Beetle Roadtrip Sessions, starring a plucky little Volkswagen Fender Edition that affectionately became known as the #CBCBeetle.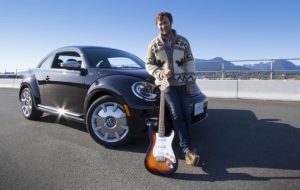 The goal of the trip was to film excellent Canadian musicians performing on their own home turf. It would be the reversal of the standard rock 'n' roll tour: instead of them coming to us, we'd go to them.
The results were a video series showcased on CBC Music and George Stroumboulopoulos Tonight, filmed in spectacular pockets of the country from Vancouver to Toronto. Some of the highlights included getting "banjo'd" into the Elk River in Fernie BC [WATCH] by stoke-folk band Shred Kelly … stuffing a live goat into the Beetle [WATCH] courtesy of the Good Ol' Goats in Cranbrook… jumping into Lake Louise [WATCH] naked… getting treated to a Saskatoon rooftop BBQ [WATCH] from Ewan Currie of the Sheepdogs… and smashing [WATCH] Sam Roberts' guitar,  among many other good times.
The CBC Beetle Roadtrip was definitely one of the most rewarding and wild of my CBC experiences, made special by the team that made it possible – Bryan Ward, Kai Black, Brent Hodge, Talia Schlanger, Nicole Goodman, Jonas Woost, and Brian Cauley – and the incredible list of Canadian musicians who took part: Yukon Blonde, the Matinee, Shred Kelly, the Good Ol' Goats, the Sheepdogs, Library Voices, Imaginary Cities, Hawksley Workman, PS I Love You, the Tragically Hip, the Arkells, Hollerado, Metric and the Darcys.
Oh, and what ARE the Canadian Screen Awards? Last year, in an effort to simplify years of confusion honouring the best in Canadian film and TV, the Genies (film) and the Geminis (TV) joined forces to create the Canadian Screen Awards to honour Canadian excellence on movie screens, TV screens, and computer screens. They are considered the Golden Globes/Academy Awards of Canada!!
Hearing our names announced as winners at the gala Tuesday night was a completely surprising, surreal, and exciting experience. Thanks to everyone who made it possible. This 15 year radio vet is definitely stunned and happy… and don't worry, it hasn't gone to my head, though I will be bringing that trophy with me to every single meeting at the CBC from now on: "talk to the statue!"
Upcoming events:
Fri Apr 11, North Shore Writers Festival, North Vancouver City Library, North Vancouver BC 7pm
Wed – Sun July 9 – 13, Winnipeg Folk Festival, Winnipeg MB
Sat Aug 2, Hornby Island Arts Festival, Hornby Island BC
Thu Aug 14 – Sun Aug 17, Sunshine Coast Festival of the Written Arts, Sechelt BC