May 29, 2010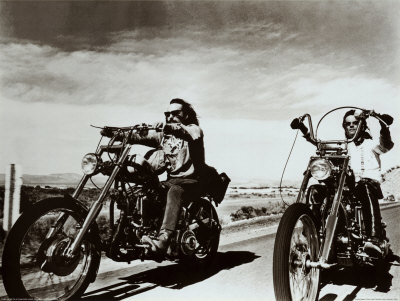 Dennis Hopper was a true American survivor, a Hollywood party boy, an artist, a genius character actor, and a human lineage in some of the coolest films of all time. Before there was the Six Degrees of Kevin Bacon, there was the Three Degrees of Dennis Hopper.
I first saw Dennis Hopper on "screen" when my movie-loving Dad sat me down as a young teen to show me Hopper's incredible and most famous portrayal as the doomed hippie in 1969's Easy Rider (side saddle with Peter Fonda and Jack Nicholson). Soon after that, I got into movies in a big way and started noticing Dennis Hopper popping up in some of the most iconic films of all time... his first major film role was along side the ill-fated trifecta of James Dean, Natalie Wood and Sal Mineo in 1955's Rebel Without A Cause. A year later he could be seen again with his buddy James Dean in the screen epic Giant with Rock Hudson and Elizabeth Taylor.
After that Dennis Hopper's filmography reads like a zeitgeist of the times… he showed up in classic westerns like Gunfight At The OK Corral, and John Wayne's best movie ever, True Grit. Hopper had an uncanny knack of landing supporting roles in what would be the lead actor's defining roles, such as Paul Newman's Cool Hand Luke and Martin Sheen's Apocalypse Now.
In later years Hopper took lead roles as dark and truly twisted villains in art-house films like Blue Velvet and Paris Trout, but paid the bills with lead roles in Speed, the bizarre hippie comedy Flashback opposite Keifer Sutherland (with the tag line "The 90's are going to make the 60's look like the 50's"… or something like that), and his unforgettable monologue as Christian Slater's father, opposite Christopher Walken in True Romance. He was even in the Vancouver-shot Out Of The Blue, featuring legendary Vancouver pop-punk band The Pointed Sticks.
Dennis Hopper was thee Hollywood bad boy who lived through it all while many around him did not, be they Hollywood legends, Manson Family members, or Beach Boys, and today we raise the bong to the real Rebel Without A Cause.