July 26, 2013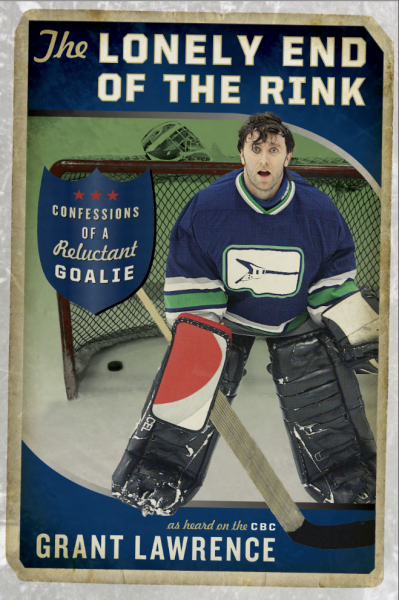 I'm thrilled to finally release the details of my new, upcoming book The Lonely End of the Rink: Confessions of a Reluctant Goalie.
I was once again close to writing a book about music, but just as was the case with the first book, Adventures in Solitude, I got distracted with another topic that I am very passionate (and conflicted) about: HOCKEY.
I've been writing this book for about three years, with a large majority of it written in France in 2011. I will happily be signing pre-orders through this site, probably starting in early September. I'll let the press peeps take over from here for the full details of the book… please let me know what you think of the title, the cover (designed by Naomi MacDougall), and the subject, by leaving a comment. Thanks!
From the press peeps:
CBC'S GRANT LAWRENCE ANNOUNCES NEW BOOK "THE LONELY END OF THE RINK"
Grant Lawrence, the CBC Radio broadcaster, musician, and award-winning author, has announced the title, cover, and release date of his hotly anticipated new memoir.
"The Lonely End of the Rink: Confessions of a Reluctant Goalie" chronicles Grant Lawrence's turbulent and often darkly hilarious relationship with the game of hockey.
Lawrence was an undersized child who wore thick glasses and knee-braces, and he understood, first-hand, what it was like to be in the attack zone of the hockey-obsessed jocks at school. For Grant, bullying and the violent game of hockey seemed to go hand-in-hand. Yet he was enamoured with the sport and its characters, especially the solitary goalies down at the 'lonely end of the rink'.
Eventually, Lawrence discovered that playing goalie on a hockey team isn't all that different from playing in a rock 'n' roll band. And that artistically-minded wimps can find just as much joy in the game as their meathead counterparts.
In this deeply revealing, incredibly witty memoir, the fast-paced narrative of "The Lonely End of the Rink" passes back and forth between tales of Grant's turbulent and often violent ordeals with hockey jocks, and the three failed attempts at the Stanley Cup by his beloved hometown Vancouver Canucks.
"Despite all the bullying I was subjected to, I absolutely adored the Vancouver Canucks, especially those Cup-Run goalies of Richard Brodeur, Kirk McLean and Roberto Luongo. I have always had a fascination with that unique position and the 'lonely end of the rink', so it wasn't much of a surprise that I became a goalie myself".
"The Lonely End of the Rink" takes its name from a song by The Tragically Hip. Lead singer Gord Downie is an ex-goalie himself, and personally gave his blessing to Lawrence for the use of the title.
"The Lonely End of the Rink: Confessions of a Reluctant Goalie" will be published by Douglas and McIntyre in October 2013.
Follow Grant Lawrence on Twitter.