February 26, 2011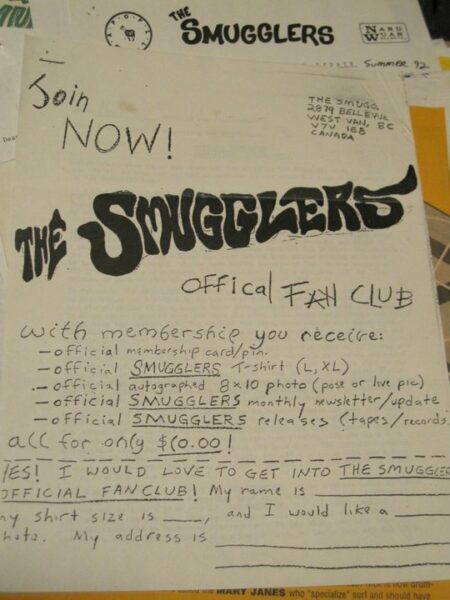 The most common question I get asked at various book events is "do your neighbours hate you?"
The second most common is "will you write another book?" I usually answer with "hopefully". The next question is usually "what will the book be about?" I usually answer  "it will probably be about my band, The Smugglers, for which I was the singer for about 17 years".
The thing is, even while The Smugglers were still a band, I had always been planning to write a book about the experience, and even started one during the CBC lockout in the summer of 2005. But I got distracted… by spending so much time in Desolation Sound during the lock out! That was also the year Jian Ghomeshi asked me to start telling stories about Desolation Sound on the radio, stories that would eventually become Adventures in Solitude.
I always thought for sure that if I were to write anything, The Smugglers book would be first. It might be a (big) blessing in disguise that it wasn't, as by sheer luck and passion and totally against surrounding popular opinion, the subject matter of Adventures in Solitude turned out to have much broader appeal than what I expect the lurid road filth of The Smugglers book would.
I guess this is a round-about way to unofficially announce that I'll begin putting together The Smugglers book soon. I've certainly been inspired by two recent Facebook albums posted by a couple of amazing fans.
The first, which fairly neatly chronicles the very first few years of our "career", from about 1988 – 1993, was put together by Baron Cameron, and old friend from West Vancouver.
The second, which fairly neatly chronicles the second half of our "career", from about 1994 – 2005, was put together by Stacy DC, originally from Thunder Bay, Ontario, and now in the Okanagan Valley of BC. (Stacy has one of three Smugglers tattoos that exists in the world as well).
Thanks to both of these awesome people for actually KEEPING this stuff, and thanks to both for giving me permission to raid their collections when the time comes.