Speaking
Grant Lawrence is an exceptional public speaker and MC and is available to host or speak at your event. Grant hosts several major music events around North America, as well as awards ceremonies, industry functions, and book and literary events. Find out where Grant is speaking next.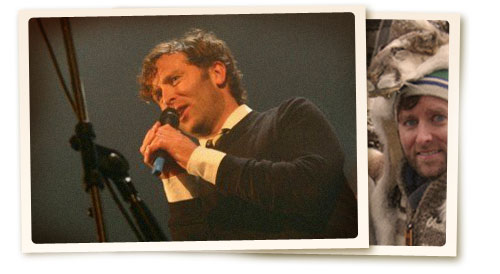 Grant currently conducts one acclaimed literary festival keynote address:
The End: Finding The Inspiration To Reach The Two Most Satisfying Words In Writing
It's one thing to decide to write a book, it's another thing entirely to sit down, write, revise, and finish what you started. In this very positive, how-to keynote seminar for aspiring writers, Grant Lawrence provides the tips, tricks, methods, and rewards he used when attempting to write and finish a book in the 2000s (also known as the Age of Distraction) while holding down a full time job. Hear Grant's personal story of widespread rejection throughout the publishing industry, only to persevere and publish his critically acclaimed national bestseller Adventures in Solitude.
Grant currently conducts three very successful music business seminars:
Heard It On The Radio: The Secrets of Radio Play Revealed
Whether through AM/FM, podcasts, satellite, or web radio, in 2012, there are more opportunities than ever before for independent artists to get radio play. In this very revealing seminar, Grant Lawrence, a long time CBC Radio music journalist, host, author, and professional touring musician, pulls back the curtain on exactly how to get your music played on the radio. Find out precisely how radio chooses songs, from indie-rock, singer-songwriters, rock, rap, country, jazz, classical and beyond, with plenty of examples provided.
Making Friends with the Media: A Publicity-Savvy Seminar
In 2012, the media surrounds us at every turn. All of those mediums are at your disposal to publicize and promote your music should you use the media to the correct advantage. In this very informative and positive seminar, Grant Lawrence, a long time musician and CBC Radio 3 music journalist, will share the secrets of making friends with the media, writing a great press release, giving the best interview, and how to use all the latest social networking tools that maximize publicity possibilities. Remember that a great relationship with the media is just as important as a great relationship with the fans.
On Stage and On Point: A Live Performance Seminar
When embarking on a career as an independent musician, it all starts with the stage. A great live show is the fastest way to earn a fan base, create a buzz, and attract press, booking agents, managers, and record labels to further your career. In this very engaging and positive seminar, Grant Lawrence, a long time professional touring musician and CBC Radio 3 music journalist, will share the secrets of what it takes to put on the best live performance possible, from the coffee house, to the club, to the concert hall and beyond. Remember: the stage is elevated for a reason!
Find out where Grant Lawrence is speaking next, or book Grant Lawrence for your event.