Radio
Grant Lawrence is a contributor to CBC Music and the host of CBC Radio 3, playing 100% independent Canadian music, streaming on www.cbcmusic.ca/radio3, and in North America on Sirius XM Satellite Radio channel 162.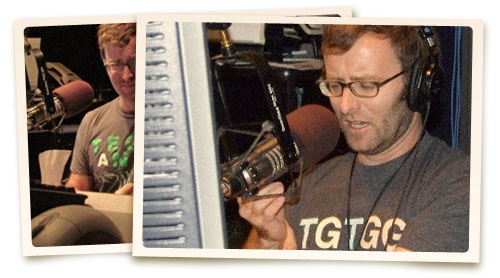 Grant Lawrence is also the host of the long-running, award-winning CBC Radio 3 Podcast with Grant Lawrence, featuring the best in independent Canadian music, interviews and features. The podcast is free.
Grant Lawrence can also be heard as a guest host on North By Northwest, All Points West, RadioWest, and On The Coast, broadcasting live to British Columbia on CBC Radio One, and is a frequent contributor to Definitely Not The Opera, and various other live afternoon shows across Canada. In the summer of 2012, Grant hosted The Wild Side on CBC Radio One.
From 2001 – 2004, Grant Lawrence was the host of RadioSonic, heard nationally every Saturday night, primetime on CBC Radio Two. It was one of only two live networks shows (the other was Cross Country Check Up). In 2004, the name of the program changed to CBC Radio 3. The final Saturday night show aired in March 2007.
From 1999 – 2001, Grant was the host of the late night experimental music program RadioEscapade, heard across Canada on CBC Radio Two.