The Lonely End of the Rink tour: the last chapter!
// December 10th, 2013 // Filed under Blog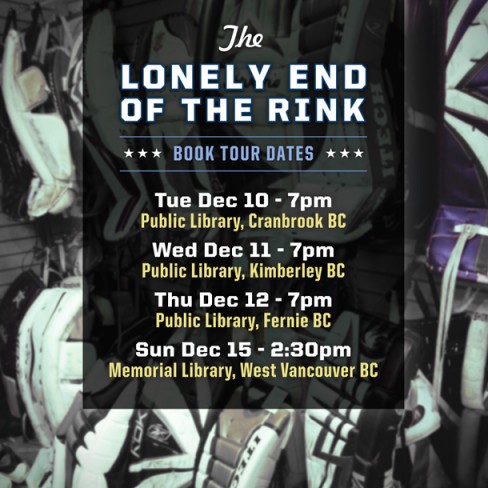 After braving extreme winter temperatures and warm audiences in the Canadian prairies, it's finally time for the last chapter of book tour dates… I'm into the home stretch and happy to be back in BC in the beautiful East Kootenays. Hope to see you there, and thanks to all who braved temperatures as low as -47 in Saskatchewan and Alberta on the weekend.
Musicians at the following dates include:
Tue Dec 10 – the Good Ol' Goats
Thu Dec 12 – Red Girl
Sun Dec 15 – Jill Barber
(no music act in Kimberley)
Praise for The Lonely End of the Rink:
"I hate hockey but I love this book" – Cory Ashworth, The Peak FM
"Grant Lawrence is a razor-sharp humourist" – Times Colonist, Victoria
"One of Canada's leading storytellers" – Vancouver Sun
"Soul-searching, candid and clever" – Ron MacLean, Hockey Night In Canada
"Like David Sedaris in a Canadian tuxedo" – Boyd Devereaux, Stanley Cup Champion, Detroit Red Wings
"Heartbreaking and hilarious" – Angie Abdou, author, The Bone Cage
"It's not always pretty, but this is a funny, poignant, and very Canadian story". – Kevin Sylvester, CBC broadcaster
3 Responses to "The Lonely End of the Rink tour: the last chapter!"
Leave a Reply